8 Baby Monitors That Give You Sleep (Yawn) and Peace of Mind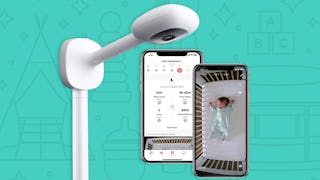 Until you actually become a parent, you don't understand the sick and twisted reality that is desperately wanting your baby to fall asleep and then spending the majority of their sleep time worried about all the things that can go wrong. Since you're not sleeping with your face up next to the crib every one of those moments (right?), you need a baby monitor to keep an eye and ear on bb. Old school monitors could only clue you into your baby's sounds via walkie-talkie technology, but today's baby monitors do SO much more. They almost give you too much info about your baby— if that's even possible.
We're serious. Today's baby monitors give you great quality audio and video plus they keep watch of baby's heart rate, oxygen level, and breathing. Some even give you sleep insights so you can get a step ahead of your baby in developing an actual sleep schedule. Impressive? YES.
Even we were impressed when researching the best baby monitors on the market. Now find one that suits you, put it in baby's room, and get to bed. Let the monitor be the parent since they are so damned great.
Looking for more baby gear? Check out our other fab baby finds.
This article was originally published on