When You Need A Hands-Free Moment, Outside Or Out Of Town, It's A Playard You NEED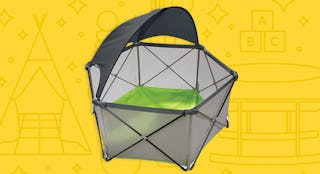 Everyone needs a little break now and then, which is why we can all agree that investing in the best baby play yard for your little is essential for busy parents. For babies still in their newborn stage all the way up till toddlers as old as three, these portable cribs have a lot to offer by way of convenience. Call them what you want, play yards, playpens, or pack 'n plays, these easy sleep and play solutions can be lifesavers when you need a safe and spacious place for your mini to rest and roll around in when you travel, cook dinner, or if you just need a minute alone in the bathroom. Keep babies securely contained (in a fun way!) in a portable play yard that has all the bells and whistles without costing an arm and a leg.
Look for boxy buys that check all the boxes for each stage of your baby's life. Remember, to thoroughly read each item's instructions for height cut-off restrictions, because once they start to climb out, playtime is officially OVER.
Sure, "nobody keeps baby in a corner", but you can definitely keep them in a range of padded cube-like setups— at least for the first few years.
Roomiest Portable Playard
Best Multi-Stage Sleeper
Best Portable Playard
Best Outdoor Playard
Best Luxury Playard
Best All In One Pack 'n Play For Infants
Best Affordable Playpen
Best Play Yards For Multiples
Best Easy Set Up Play Pen
Best Pack 'n Play For Sleeping
Now that you're all squared away with the best rectangular play areas, check out the rest of our best baby gear.
This article was originally published on