Light It Up (Tree, Roof, Whatever) With The Best Christmas Lights On Amazon
by Steph Osmanski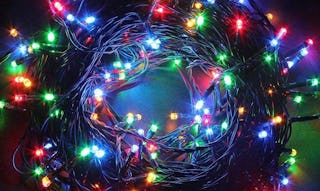 Twinkle Star
What's Christmas without the lights? Well, okay, it's a lot actually. Have you learned nothing from the Grinch?! But anyway, lights can be a fun and engaging part of Christmastime, especially if you're a mom. For whatever reason, kids love hopping in the car and driving around to look at lights. It's, you know, totally magical.
Of course, outdoor roof lights aren't the only Christmas lights you should look into this year. Trees typically get wrapped in lights, as can the banister, or any other part of the house. No matter if you're looking for indoor or oudoor lights, we've rounded up some of the highest-rated and best-selling Christmas light sets on Amazon.
DREAMING OF A WHITE CHRISTMAS
White lights are one of the most popular sets come Christmas time. They're sleek, they're timeless, and you never really get bored of them. Right? This set is certified for outdoor use, as it's UL approved and doesn't get overheated. Lights can be programmed to do combination, waves, sequential, slogs, chasing/flash, slow fade, steady on, or twinkle/flash lighting. Basically, anything you want. Oh, and did we mention that they are rain and snow-proof?
THE CLASSIC LIGHT CHOICE
Ah, the classic green wire Christmas lights. They're ideal for wrapping around a Christmas tree, since the green wire just kind of blends into the rest of the tree. These lights are super inexpensive and can be used either indoors or outdoors, but if you're decorating with them outdoors, we recommend getting someone else to do that for you. (Like a husband or pool boy or something.) That sh*t is annoying to untangle and nobody wants to be doing that in the cold.
BRIGHT AND VIBRANT
Going full-blown Danny DeVito in Deck the Halls this year? You'll need these so-vibrant-you-can-see-them-from-space colored lights. With 66 feet of fairy string lights, there's no way Santa could even imagine missing your house come Christmas Eve.
FROM WHITE TO BRIGHT
These indoor lights go from warm white to multi-color with just the push of a button. These lights have nine different lighting modes and feature white, red, yellow, blue, and green hues. The string lights, made for indoor use only, are also dimmable. Brightness goes by 25s, so you can have 100% brightness or 75% or 50% etc. There's also a built-in timer that's super convenient for moms-on-the-go who have better things to do than remember to turn on the lights every night.
TONIGHT'S FORECAST? METEOR SHOWER
Yep, you've seen these before! Meteor lights are the ones where the blue or white lights travel down from the top of the bulb to the bottom so that they look like icicles or stars in a meteor shower. Ideal for hanging from a tree in your front yard, these Meteor Shower Rain Lights sort of look like snow as they come down from the sky.
ICICLE LIGHTS FTW
Icicle lights are a Christmastime go-to. They transform any home into a full-fledged gingerbread house, adding a cheerful winter wonderland feel. These lights are safe, energy-saving, and have an output voltage of 30V. There are eight different modes and the icicle lights will turn on for six hours, shut off for 18 automatically.
LIGHTS FOR THE WHOLE HOUSE
String or fairy lights not your thing? If you'd rather get creative, Christmas Laser Lights use a projector to project a Christmas-themed image on your house. This one comes with five different patterns — snowflakes, jingling bells, Christmas trees, Santa Claus, and starry.
THE MOST VIBRANT
With 100 multi-color OptiCore steady LED bulbs, these outdoor lights have some of the best color saturation on the market and are durable enough to withstand the December conditions. OptiCore bulbs have a single dimmable SMD LED diode that emits a beam of light through the bulb's core, making its color saturation incomparable.
GET CREATIVE
There aren't your average Christmas tree lights. These string lights come with 200 LED bulbs with a total length of 72 feet and are eco-friendly and energy-saving. What's super cool about the Lyhope Christmas lights is that you can form them into any shape you want. Santa? Sure! Reindeer? Go crazy! Candy cane? That sounds like the easiest out of all those examples, so hey, go for it!
FLAMELESS AND CLASSIC
Give an old-school feel to your Christmas tree with these clip-on tree lights that look like candles. With a static light effect and 50 warm white LEDs, you'll be feeling Tiny Tim/Ebenezer Scrooge vibes whenever you light up the tree.
This article was originally published on