10 Festive Ornaments That Will Make Your Tree The Talk Of The Town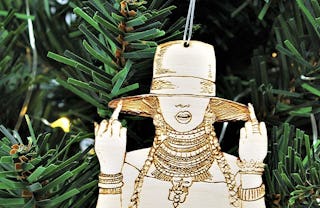 There is absolutely no one right way to decorate a Christmas tree. We all have our own styles, which is what makes holiday decorating so fun and interesting! Whether you want to go the traditional route — sticking to Christmasy color schemes like red and green, red and gold, or silver — or feel like mixing things up with a few fun and funky ornaments that add character, a just-purchased Christmas tree is a blank slate.
And you're the artist, Mama! Well, you and any of the tiny little hands that may want to help you hang ornaments on the tree branches.
Either way, you're going to need some styling new ornaments to really bring your Christmas tree to the next level this year. Keep reading for 10 of the best Christmas ornaments for 2019!
WE WERE ON A (CHRISTMAS) BREAK!
If you love Phoebe, Chandler, Ross, Rachel, Joey, and Monica as much as the next person, then your Christmas tree deserves a little Friends loving. This Central Perk mug spells out Friends in the latte and is the perfect nod to your favorite TV show for your own tree, but it also makes a great gift for your Friends binge-watching buddy.
IN THE WORDS OF JOSH GROBAN
This red wooden ornament says, "Believe" and for good reason. Coming in at just five bucks, you can feel good about adding this festive ornament to your tree, as its proceeds go toward a good cause: St. Jude's Children's Hospital. The faux snow is also a cheerful touch that will really get you in the holiday mood.
SILVER BELLS, LITERALLY
Lenox is an iconic giftware company that makes beautiful collectibles, including ornaments. This silver and red-accented ornament set comes with three Christmas-themed ornaments each in individual gift boxes. Each features silver-plated metal with a scroll motif, accented with diamond-bright crystals. That red ribbon is a Lenox signature, so stick to Lenox for all your Christmas ornaments needs, and you'll have a beautiful color scheme going.
CHRISTMAS BEY, I MEAN, DAY
Made by hand with sustainable materials and practices, you may never find a more perfect Christmas ornament if you're a Beyonce stan. This "Formation" ornament, made on birch wood, turns any Christmas tree from festive to woke.
RED AND GOLD
FOR THE MINIMALISTS
All about that minimalist life? Then your Christmas tree should totally reflect your personal style! This ornament set by Clever Creations is shatter-resistant, inexpensive, and timeless. Basically, it checks all the modern mom's boxes.
MAKE MEMORIES WITH MICKEY
As much as you may love going all Martha Stewart on your Christmas tree every year, Mom, it's not all about you. If you've got kiddos, you have to compromise and you know, include ornaments for them, too. Make memories with this Mickey Mouse ornament that's dated 2019. Crafted for Hallmark by artist Alex Ho, the 2019 is glittery as to catch little one's attention and will add some vibrancy and color to this year's tree.
SOFT PINK AND CLASSIC GOLD
If you're a millennial mom then a) you're not a regular mom, you're a cool mom and b) chances are you're a fan of blush pink. To take your pink obsession to the next level, these rose gold ornaments are the perfect way to accessorize your Christmas tree. Don't think you pull it off? Just check out #PinkChristmasTree on Instagram, which has nearly 20K posts.
GIFT WITH A (RAIN)BOW
$5.99 AT THE JOLLY CHRISTMAS SHOP
Whoever said that Christmas trees should strictly stick to a red-and-green color scheme was seriously disturbed. F*ck it and go colorful! Add some pink, yellow, orange, green, and blue hues to your tree with this glittery rainbow ornament.
ICONIC, CLASSIC, TRADITIONAL
They may not be shatter-proof but you can rest assured knowing these silver glass drop ornaments are sustainably made. After all, they're made of mouth-blown glass. It doesn't get more hand-crafted than that. The set of 17 comes with several different sizes of silver drop ornaments, all of which come with a ribbon tied on top for easy hanging.
This article was originally published on