8 Kids Christmas Pajamas They'll Want To Wear All Year 'Round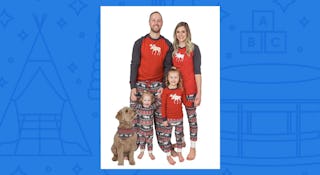 Arguably one of the cutest things in the world is seeing little ones snuggled up in their Christmas pajamas, smiling and wide-eyed in anticipation of the man with the big red bag. While your kids may look adorable in their Grinch footie pajamas or ugly Christmas sweater onesies, the bedtime magic can last year-round if you find other comfy jammies that are just as festive, but a bit more versatile.
For instance, soft red plaids are cozy from fall through winter, and stripes never go out of style, even if they happen to look like a candy cane. And let's not discount the fact that Disney pajamas starring princesses or Toy Story characters will always be timeless, no matter their age.
Needless to say, your kiddos won't need to stash their favorite jammies just because they're themed for the holidays. Check out our favorite kids' pajamas that are perfect for Christmas — or any time of year!
Best Nightgown Pajamas
Best Disney Pajamas
Best Baby Pajamas
Best Pajamas For Kids Of All Ages
Love these PJ picks? Check out more mom-approved kid gear!
This article was originally published on