Tech Lovers Are Buzzing About These Cyber Monday Deals
by Phuong Ireland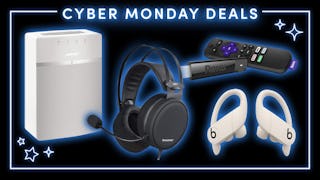 Like you, this story will get better with age. Keep checking back through Cyber Monday as we add even more great deals.
Cyber Monday continues with some of the *best* tech deals around!
With 2021 just around the corner, you don't want to start the year with that old phone or out of date computer (what would the kids say?).
We've found some too-good-to-miss mark downs on computers, tablets, smartphones, and more, to save you beaucoup bucks. Save more, buy more, right?
Just how new workout clothes can inspire you to hit the gym (we hope!), a shiny new computer can be just the thing you need to become the the email master or to finally take that online course you've been thinking about for years.
Scroll through to find the devices that will propel you and your home biz in 2021.
42% OFF (was $478)
33% OFF (was $449)
56% OFF (was $50) + FREE Amazon Music (for 4 months)
28% OFF (was $46)
15% OFF (was $30)
35% OFF (was $489)
38% OFF (was $130)
21% OFF (was $184)
15% OFF (was $17)
49% OFF (was $18)
47% OFF (was $19)
51% OFF (was $45)
22% OFF (was $96)
16% OFF (was $25)
17% OFF (was $69)
And that's a wrap on the very best Cyber Monday tech sales! We hope you found a tech gadget that will add to your "new year, new you" mentality come January.
Check out more of our Cyber Monday sales and get holiday shopping off your list.