The Best Drugstore Eyeliners That Work *Without* Costing a Fortune
by Rachel Aschenbrand-Robinson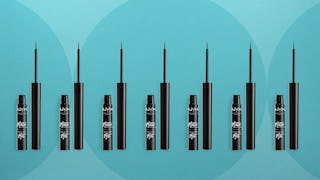 Staying stocked up on makeup essentials shouldn't blow your budget. Sure, you might splurge on certain can't-live-without favorites but when it comes to eyeliner, in particular, there are plenty of drugstore picks that are just as good as their prestige counterparts.
From liquid liners to creamy pencils to wing stamps (yes, stamps), the options can become slightly overwhelming. So how do you find the best drugstore eyeliner for you? It's all about identifying your needs first, like the type of line you're looking to achieve (thin and precise? smudgy and smokey?), how long you need your liner to last, and more.
Because time always seems to be in short supply, we've done the hard, sanity-saving work of identifying the best drugstore eyeliners. Best of all? They're all under $15, so you can find your perfect pick without overspending. Feast your eyes ahead.
Found your go-to eyeliner and saved some money? Score! If you want to keep riding that budget-beauty high, shop these best drugstore eyeshadow primers.