These Under-$20 Lip Liners Will Finally Convince You to Use One
by Jessica Waller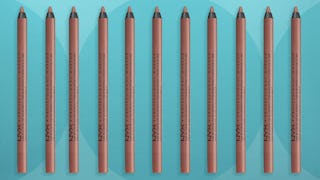 It's baaaaaaaack. No, we don't mean weird '90s hair with tiny butterfly clips or v low-rise jeans (may they RIP) or Hanson (are they already back?). We're talking that *other* '90s fave…lip liner. Remember those days (pre-kids!) when you had hours to perfect your pout by first outlining your pucker then topping it off with a moody lippie that was just a touch too shimmery? Who even were you? Thank the effing beauty universe that the trends have shifted and accept the fact that the coolest look of the moment is a modern matte that's best mastered with a quick liner.
Liners do have a practical purpose, too: Whether you want to nix lipstick feathering on a big night out (you fancy!) or sketch your lips a little larger than life (full-on Kylie vibes), there's a liner for every look. Here's our list of the top lip liners under $20. Collect 'em all! (We're kidding, but do try a few shades depending on the lewk you want).
Take a peek at some more smart beauty buys we're swooning!
This article was originally published on