The Best Drugstore Moisturizers To Help You Glow Up Your Face Care Routine (On A Budget)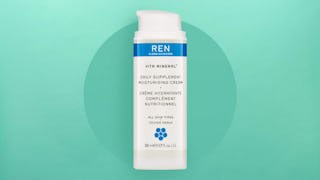 The best drugstore face moisturizers are effective, affordable, and better yet, you don't have to step foot into an actual drug store to buy them (thanks, online shopping!). Moisturizers for your face will help combat dry skin, and if you choose the right product, it'll offer a host of other benefits, too. For instance, there are formulas that offer non-greasy hydration for acne-prone skin, anti-aging ingredients for mature skin (because self-care needs change for women in their 40's, amiright?!), brightening benefits for dullness, and extra-rich creams for nighttime. And in the name of giving your beauty cabinet a makeover, why not snag a budget-friendly eye cream, tinted moisturizer, and shampoo and conditioner set, too?
But back to caring for that beautiful face of yours: It all starts with identifying your individual needs. For the record, we can't blame our dry skin entirely on winter. I mean there are the kids, the pets, the A/C, our bosses, the sun, the kids (did I already say that?). Regardless of why our skin feels drier than leather, we can all use a full serving of hydration with a side of protection. Our face goes through a lot each day, and we don't really have the time to layer-up as we should (10 steps, really K-Beauty?). We are all getting older, too, which means we need extra everything. That includes every vitamin that exists and anything that helps with nourishment, moisture, elasticity, smoothness, and plumping.
If your current moisturizer just isn't doing the job, don't hesitate to change up your current skincare regimen. It's not like we need an excuse to add some new to the bathroom counter anyway. (This is why we need our own bathroom counter and our private bathroom if we're being honest).
Check out the best drugstore face moisturizers that are worth trying for dry skin, acne-prone skin and aging skin (we mean mature skin, which in K-Beauty really does mean 20 and over).
Best Drugstore Moisturizer For Dry Skin
Best Drugstore Moisturizer For Acne-Prone Skin
Best Drugstore Moisturizer Mature Skin
Best Drugstore Moisturizer For Night
Best Brightening Drugstore Moisturizer
Make space on your countertop! There are lots of other beauty-must haves on our list.