We can't blame our dry skin entirely on winter. I mean there are the kids, the pets, the heat, our bosses, the sun, the kids (did I already say that?).
Regardless of why our skin feels drier than leather, we can all use a full serving of hydration with a side of protection. Our face goes through a lot each day, and we don't really have the time to layer-up as we should (10 steps, really K-Beauty?). We are all getting older, too, which means we need extra everything. That includes every vitamin that exists and anything that helps with nourishment, moisture, elasticity, smoothness, and plumping.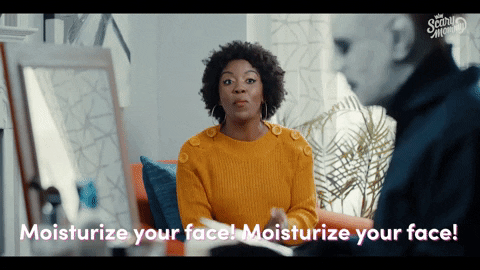 If your current moisturizer just isn't doing the job, let's start fresh in 2020. It's not like we need an excuse to add some new new to the bathroom counter anyway. (This is why we need our own bathroom counter and our private bathroom if we're being honest).
Here are our 13 favorite face moisturizers that are worth trying for dry skin, acne prone skin and aging skin (we mean mature skin, which in K-Beauty really does mean 20 and over).
Best Moisturizer for Dry, Flaky Skin
Even with all of the new brands on the market, sometimes the classics are still the best. That's how we feel about Burt's Bees in general, and we especially love this Intense Hydration Clary Sage Day Lotion. It's light, but very effective. And the mess-free pump that sits nice on the countertop is so thoughtful.
---
---
This "clean" moisturizer works like a multi-vitamin for your skin. Rosehip oil, cranberry seed oil and a mineral complex (zinc, copper and magnesium) help to rejuvenate, nourish and protect the skin. It's really good- we use it first thing in the am every day.
First of all, we are sorry. Yes, this is only a mini size (although it does come with an equally amazing facewash), but you MUST try this moisturizer. AKA wellness in a jar, this blend of kale, spinach, green tea, alfalfa, vitamins C/E/K and hyaluronic acid makes it #toogoodforwords.
When you're feeling dry, so dry that your skin is almost croc-like, a balm is the concentrated moisture you desperately need. Rub it in your palms and pat it on your face, rub it into your cuticles and tap around around the nose and lips. Relief from winter. At least for a while.
---
---
Best Moisturizer for Acne Prone Skin
Aveeno hears you and your acne prone skin. Whether it's your period, your work stress, or your kids teacher (and all of that homework!) causing the break-outs, this daily moisturizer has salicylic acid to clear up blemishes and prevent future breakouts. The green and white packaging even makes us feel soothed.
Dr Pimple Popper knows how to pop those pimples (you've seen the YT videos, right?). She also knows how to keep them from coming back. She formulated this lightweight, oil free daily moisturizer for all of us, acne prone or not. And because she is a Dermatologist, she added in all important SPF.
If you've been looking for a gentle, fragrance-free moisturizer, this is new to our beauty counters. Almond oil, shea butter and organic extracts make it soothing and hydrating (and not smelly). Great for normal and sensitive skin.
---
---
Best Moisturizer for Anti-Aging aka mature skin
Olay has been a go-to drugstore brand for years, but this one really wowed us with the 7 benefits rolled into one. Bragging rights include brightening, smoothing fine lines, restoring firmness and blah…blah…blah… Yes, we'll take every one of them. Oh, and the SPF.
Mature skin needs retinol, plain and simple (the % of retinol is specific to YOUR skin). This rich cream takes time, so start using 30+ days before your next big moment to appreciate the benefits. It's hydrating, smoothing, anti-wrinkle and anti-aging, all phrases we mature skinned women live by.
Not only do you lose your mind with age (baby brain never goes away!), but also hydration, elasticity, and Coenzyme Q10. Eucerin replenishes that and more with Vitamin E and Beta-carotene to *help* reduce the signs of aging and wrinkles.
---
---
Best Moisturizer for Night
Mamas, let's get real. This stuff is sticky and thick, but every January and February, this saves our lives. Rub it in your palms, and slather it *everywhere* before bed. Bonus points for wearing sleep gloves. And socks. It's not about him.
Let's just pretend you wanted to spend $40+ on a thick, soothing, hydrating night cream, but instead discovered a $12 version that was better? You're welcome.
We love CeraVe for its simplicity and longevity and trust them for their ingredients and effectiveness. This Skin Renewing Night Cream, with Hyaluronic Acid and Niacinamide (but no fragrance) is the BFF for mature, and all, skin types.
---
---
Make space on your countertop! There are lots of other beauty-must haves on our list.
Although we only recommend picks we really love, we may earn a commission on purchases made through links from our site.
SHOP THE STORY