These Fall Makeup Must-Haves Launched Just In Time For Autumn 2019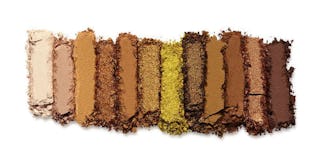 It's fall, y'all, and that can only mean one thing: you're due for a makeup overhaul. No-makeup makeup looks are cool for the summer (not to mention virtually anytime of year you could care less and prefer to do the bare minimum), but autumnal shades are too pretty to pass up. Between moody merlot hues, your-lips-but-better nudes, palettes on palettes, and plumping mascaras, fall makeup launches are arguably the best of the year, and if anyone deserves to treat themselves to some seasonal goodies, it's you, Mama. So grab yourself a piping hot PSL, your credit card, and settle in because we've rounded up some of fall 2019's best makeup launches below.
The word "foundation" in and of itself means the underlying basis, which means your foundation is what's ultimately going to bring your entire look together. Jane Iredale's Beyond Matte 3-in-1 foundation can do just that.
Available in 18 shades to match your natural color, this liquid formula is buildable, so you can adjust the coverage to your liking. It's also lightweight and made with 100% plant-based ingredients, like celery seed and linseed extra to both nourish and smooth your skin. What's more, this foundation applies like butter without primer, so that's one less step you have to account for in your morning routine.
RELATED: This Is The Ultimate Halloween Idea Guide Of 2019
Meet your staple palette for the season, Mama. Unlike larger palettes that are too often cluttered with too-vibrant colors you'll likely never use, The Wanderess Rush Eyeshadow Palette from Wander Beauty is like a capsule wardrobe for your eyes; it's comprised only of shadows you'll actually wear, and wear often. But don't confuse "staples" for "basics" because, trust us, there's nothing basic about this selection. With four shimmery shades — Blitz (cranberry), Avenue (khaki green), Hustle (copper gold), and Charge (champagne shimmer) — and two matted hues — Swift (matte eggplant) and OTW (matte dusty rose) — it's an all-in-one collection that can take you from daycare drop offs to dinner plans without the kids with the swipe of a brush.
Fashion never gets tired of a bold, statement lip, but according to fashion week reports, red carpet mamas are rocking subtle nude lips for the upcoming F/W season. Mama-to-be, Ashley Graham and Mom-of-Siri, Katie Holmes were recently spotted sporting these Dear Dahlia's vegan lipsticks in New York, and we couldn't be more in favor of the classic, timeless pout nude hues achieve. Especially on days where going full glam just isn't possible (or, you know, just way too much effort), swiping your Dear Dahlia match gives you that subtle your-lips-but-better boost.
Summer might be slipping away, but thankfully Lawless has found a way to compress that ever-so coveted sunkissed glow into this velvety bronzer compact. Choose your shade (honey Golden Hour or caramel Blazed) and apply in a circular blending motion along the perimeter of the face (against the hairline, the hollows of your cheeks, around the jawline). You can build for a deeper bronze by focusing on the areas where the sun naturally hits your face, or use the powder to contour.
We know you're running on an almost empty tank, Mom, but you don't need sulken eyes giving away your secret. When even an espresso fails to wake you the hell up, all you need is a swipe of Stila's new Magnum XXX Mascara. Can't find your lash curler? No problem. The mascara's wand has been carved to curl, and between its shape and the actual full-bodied formula (enhanced with 1% diamond powder), your eyes haven't looked this wide since childbirth.
We know what you're thinking: Why on earth would you want to highlight the complexion your children have inevitably aged about 10 years in their point five seconds on this planet? Answer: Because Maybelline's Master Chrome Jelly Highlighter can reinstate the luster you've lost to nightly feedings. This water-based highlighter is available in two metallic shades (rose and bronze), and has been infused with pearlescent pigments to create that soft, light-diffusing shine you've been searching for. No offense to your partner, but this is the light you really need in your life.
Remember when Urban Decay pressed pause on their Naked line? Well, the brand is finally launching its eighth installment in the series, and it's all about the honey, honey. The buzzed-about palette is essentially a wardrobe of your staple autumn shades veiled in gold and shimmer. Break the 12-shade collection out for a little sweetness to your everyday looks that would normally consist of the bare minimum (re: Tinted moisturizer and cherry-flavored chapstick).
We're beginning to think winged liner is a hoax because nobody, especially mamas, has the time (or patience) to make that sh*t even. That being said, even if you can't spend half an hour (or more, let's be honest) in front of the mirror artistically applying your eyeliner, the final look can still be fierce.
Revlon's So Fierce! Vinyl Eyeliner (available on Amazon in Midnight Mystery, Mighty Mocha, Powerful Plum, Righteous Rum, and Royal Rules) glides on incredibly smooth, so if you know how to draw in a straight line, you should be good to go. And if you fudge up, no biggie; you can easily correct your mistakes by taking an angled brush and smoothing out the formula.
Make sure your child doesn't mistake Alleyoop's PenPal for one of their art supplies, Mom. You'll regret it, and they'll be confused. This multi-purpose product will hit you in all the nostalgic feels. Designed to mimic your favorite multicolor ballpoint, Alleyoop's product is essentially your makeup bag in four clicks. It comes with an eyeliner (in Jet Black), a highlighter (a cool-toned shimmer), lip liner (in mauve), and an eyebrow filler/eyeliner (in Grind, coffee brown). You can't always have your sh*t together, but now you can have your makeup together.
If you're not obsessed with Stranger Things, your kids probably are, which means you definitely have some idea who Millie Bobby Brown is. As if the actress wasn't already making bank from her Netflix gig, the 15-year-old launched her own beauty brand just in time for fall 2019. Now, if you're reading this thinking "what does a 15-year-old know about concealing wrinkles and under eye circles," the answer is probably nothing, but she clearly knows something about makeup.
That being said, The Florence By Mills See You Never Concealer is light coverage, so you'll probably be using this product on just-forming blemishes or mornings when you clocked in a decent amount of shut-eye, but could still use some enhancement. However, the formula features caffeine and vitamin E, so it's incredibly soothing, brightening, and protects skin against environmental stressors. All that for under $20? Yes, please.
If your morning routine leaves little to no time for a full face of makeup, Charlotte Tilbury's Magic Vanish! Color Corrector is all you need to feel a little more confident walking out the door, Mom. Available in four shades (deep, fan, medium, and fair) to suit all skin tones, each colorful compact works to balance and enhance your complexion. The formula includes flavonoids from unripe, sweet oranges to reduce under eye puff, carnauba wax for buttery smooth application, mica to enhance skin's natural luminosity, and microspheres for easy blendability and a seamless finish.
Reserve Kim Kardashian's latest collab with fashion model Winnie Harlow for all date night eyeshadow looks from here on out. The KKW 12-pan palette was formulated with easy, super blendable application in mind, so it's perfect for Mamas who have a very specific window of time to get ready. The shades are an array of matte and metallic hues from mid-tone brown to deep burgundy, and can be applied dry or wet (if you're feeling fancy). We promise the finished look will have you snapping selfies all evening long.
Hey mamas, BECCA Cosmetics just combined your two favorite things in one: a classic bold lip and red wine. And while we were on the hunt, we decided this specific hue needs to be your staple lip for autumn. It's moody, inspired by Merlot, and unlike actual alcohol, won't dehydrate your lips. The 8-hour strong formula has been infused with hyaluronic acid, avocado and olive oil, so it's highly nourishing. Plus, the lipstick also features light reflecting oils for an even greater impact and luxurious color payoff. Cheers to that.
Although we only recommend picks we really love, we may earn a commission on purchases made through links from our site.
This article was originally published on