Come Forth And Allow Your Child's Imagination To Run Wild With These Fantasy Books That Are Downright Spellbinding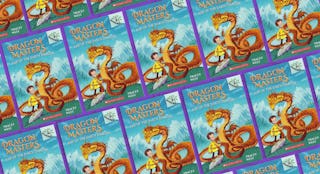 It's never too late (or too early) to get your child hooked on books, and fantasy books can be a great place to start. When they have the best fantasy book series on their bookshelf, there's no way your youngster won't get hooked on reading about all of the mystical tales. According to Tracey West, the author behind the much-loved fantasy book series Dragon Masters, "reading fantasy books helps readers learn how to use their imagination, and to think about what might be possible outside of the world we know." Beyond epic battles between good and evil— magic, wizards, and dragons (oh my!) are a mainstay in the fantasy realm. Ultimately, it comes down to "Magical creatures and adventurous plots, rooted in ideas or concepts that children can immediately connect to, such as family and friendship," West says. These are the key ingredients that you'll find in any great fantasy book for kids.
As an author of a bestselling Scholastic fantasy series, West shared some valuable insight into her creative process. "I tend to begin by creating characters, and then imagine what kind of magical world they might live in, and what challenges or problems they might have in that world that would lead to adventures," she says. Think back to when you were a child playing make-believe games with a friend (i.e. assigning roles and embarking on an adventure). West describes her writing process in the same light. "The story just begins to unfold in my head. I might start by imagining the world or environment and who might inhabit it."
Unlike a video game or movie which lays everything out for you—from the characters to what the world looks like–West says that "books make us exercise our brains a bit more to imagine those things on our own. And when kids can do that, they can apply it to all sorts of things, such as solving problems or creating inventions."
Come forth and allow your child's imagination to run wild with the 12 best fantasy books for tweens and kiddos that are downright spellbinding. Even if they aren't readers yet….they will be!
Fantasy Books for Young Readers
Fantasy Books for Middle Schoolers and 13-Year-Olds
Need more reading recommendations beyond these fantasy books for 5th graders? Check out the best kindergarten books to build your five-year-old's library.
This article was originally published on