20 Best Friend Necklaces For Besties Of All Ages (Yep, Even Adults)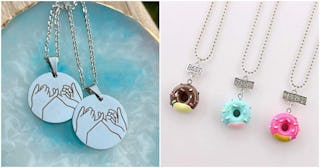 Etsy / Amazon
Best friend necklaces will always be the best way to celebrate a friendship. Whether it's something small or even a larger statement piece to share your BFF love with the world, best friend necklaces are a great way to feel appreciated. If you're ever stumped for gift ideas that show your ride-or-die how much you care, get them one of these sweet charms, which is the perfect way to say "you're the Ann to my Leslie" (or "you're the Anna to my Elsa" if you guys are really into Disney characters).
Think you're too old for necklaces like these? Think again. Sure, they may have been more popular back in middle school when stating your best friend was more of a "status," but it's always appropriate to acknowledge the people you love. Plus, they're no longer just available at Claire's. (To be fair, they'll always be the top destination when it comes to fun mall jewelry.)
Related: Want A Nose Piercing? Learn The Care Basics, Including How To Clean One
If you're looking for a good set of best friend necklaces to let your bestie know how you feel — or maybe your kiddo wants to share the love with their fave friend — here are some of the best, in every style imaginable. Because when it comes to your best friend, you don't want to disappoint. Happen to have more than one best friend? Well, luckily jewelers are prepped for that possibility, as well; we found sets for groups of 3 and 4 friends, too.
Matching Best Friend Necklaces
Best Friend Necklaces For 2
BFF Necklaces For 3
BFF Necklaces For 4
Best Friend Necklaces For Adults