These College Supplies Are So Genius, You May Just Want Them For Yourself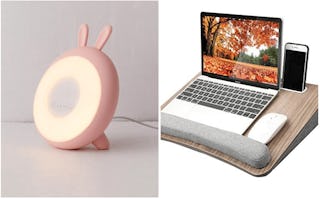 Even though it's looking like most colleges will be continuing with remote-based lesson plans and seminars, you can still get the college kid(s) in your life a gift they'll appreciate whether they're in a dorm, on their own in an apartment, or living at home. Here are some of the smartest, most thoughtful gifts a college student will actually use (the products are so good, you'll probably want a few for yourself…like that taco blanket).
We've included the super practical items they literally can't function without (an extension cord, portable charger, and noise-cancelling headphones, for example), and some fun (but totally necessary) basics, like a sunrise alarm clock and totally dope slippers. Without further ado, here are 18 gift ideas for college students.
The Best College Gifts
Best Gifts for College Girls
Best Gifts for College Boys
While you're here, check out other Back to School shopping roundups we've got for ya!