Parent Approved Headphones For Fly As Hell Tweens
by Anjerika Wilmer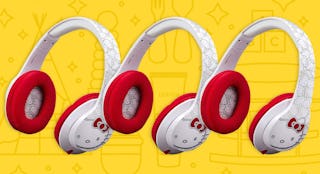 We all have those moments where we'd like to escape reality (three words: Maui awaits you). But in all seriousness, kids are the same way. Whether it's playing a virtual reality video game or just jamming out to some "noise" on YT, sometimes all it takes is putting on a set of headphones for your rebellious tweens (9-12-year-olds) to get in the zone.
RELATED: 12 Kids' Microphones That Will Make Your Tots Feel Like Superstars
But of course, not just any old headset will do. Most importantly, you want to find a pair that will protect their ears from too much sound (the World Health Organization recommends a 85dB-limited volume range to prevent hearing damage down the road). Naturally, kids and tweens like BIG flair. A panache-packed pair with all the bells and whistles (LED lights, unicorn horns, bright colors) will fit their personality down to a T. Take a look at the specs: These are the best mom-tested, kid-approved, noise-canceling headphones we have found when it comes to fit, convenience, style, and safety.
Now that you've scored the best kids headphones for downtime, take a peek at all the latest kid gear. From toddler-friendly lunch boxes to leak-proof kids water bottles, we've got you covered.
This article was originally published on