I Used To Hate Jeans Shopping, Now My Closet Is #DenimGoals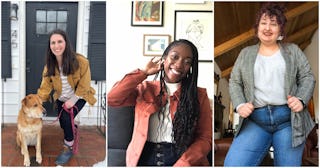 Courtesy of Karen, Amanda and Julia
Jeans shopping. If these two little words send a shiver up your spine (*shudder*), you're not alone. With different cuts, styles, and materials, trying to figure out your size is as mind-boggling as your kid's common core math homework. Then once you've solved the equation, you realize you're actually paying (and probably, quite a bit) to put your waist, hips, and legs into stiff, zipped-up confinement when really, all you want to wear is your sweats.
RELATED: These Adorable Baby Jean Jackets Will Make You Want To Match With Your Mini
After being practically housebound for nearly a year (but who's counting?), my feelings toward denim have become even more complicated. I have a love/hate relationship with my jeans: I love how they represent putting effort into my appearance, which is currently reserved for the few times I actually leave the house; I'm a WFH mom with a 1-year-old, and we're in the midst of a worldwide pandemic, after all. But I hate how they have a button. And a zipper. And a structured waist. After a mere few hours of subtle restriction — especially after a big meal — you bet I'm yearning for my stretched-out leggings.
Needless to say, my jean-shopping habits have changed to accommodate this mid-pandemic, work-from-home, new mom lifestyle. And that goes for tops, too — give me something I can throw on 3 minutes before running out the door, because if you didn't already know, it takes roughly 5.5 hours to get your baby ready to go. I need style and comfort, and I need clothes that fit, because Mama doesn't have time to shop around or deal with online returns. So when I discovered Liverpool Jeans — aka, makers of the world's most perfect denim — I found the best of both worlds. And, fellow button non-enthusiasts, I have three words for you: Pull. On. Jeans.
Liverpool denim is designed to stretch so it molds to your body, but it's soft and lightweight, too. Add one of their flattering tops and a trendy jacket — check, check — and you'll look put together, nay, polished as you bravely emerge for a public appearance for the first time in … er… however long it's been. They also offer a wide range of sizes, meaning you're guaranteed to find your perfect fit and a style that works for you.
As it turns out, I'm not the only one on team Scary Mommy searching for a flawless combination of comfort and style, but for different reasons. From classing up our work-from-home wardrobes, to finding size-inclusive staples that are actually cute, to assembling a date night outfit that doesn't make us miss our sweatpants, we found everything we wanted in Liverpool's line of cool, effortless of tops, jackets, and of course, their cult-favorite jeans.
"These jeans are SO comfortable! As a plus-size woman, jeans that are comfortable, and stylish are so hard to find. The boyfriend blazer is like nothing I've owned before in the BEST way!" – Julia, Photo Editor at Scary Mommy
"I like Liverpool because their clothes are stylish and comfortable. I can hang out in them at home before I head out for the day!" – Amanda, Associate Affiliate Editor, Scary Mommy
"I love these pants (which feel like leggings!) because they're form fitting and give you a little shape. And after wearing sweat pants all year, it's a nice change of pace." – Simone, Associate SEO Editor, Scary Mommy
"I LOVE THESE JEANS! As a fat babe always on the lookout for pants that are 1) comfy, and 2) stylish, this pair takes the cake. These jackets are also super-super comfortable and easy to add to any outfit to give it a little oomph. Thank you for making extended sizing so plus-size gals like me can go live our best lives in the best clothing!" — Lindsay, Writer at Scary Mommy
"My new wardrobe ethos is cute, quick, and comfy! I love that I can slide on these jeans, throw on a top and jacket, and I'm out the door (while looking polished, to boot)." – Karen, Senior Associate Affiliate Editor
This article was originally published on