Outdoor Patio Heaters Are Ideal For Chilly Social Distance Kid Dates In The Backyard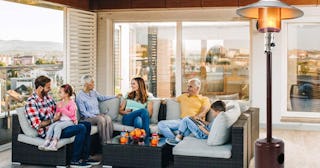 Courtesy of brands
Days are shorter, evenings are brisker, a new school year is starting again (regardless if the kiddos are still learning from home or not)…summer is slipping away. Just because sweater weather is creeping in doesn't mean your backyard lifestyle has to be packed up for the season. Fire up an outdoor patio heater and enjoy your backyard social life well into the colder months. Since indoor gatherings might not be back for a while, be sure to find the best outdoor space heater to keep your porch or patio warm.
Natural Gas & Propane Outdoor Patio Heaters
Outdoor heaters are most commonly powered with a propane tank, which means totally portable, cordless heat to move around wherever you need it. Propane outdoor heaters tend to be more common since they really kick off a ton of heat — perfect for warming up a backyard. The size of the propane tank needed will depend on the size of the heater; some portable ones take just a 1 lb tank, but most standard patio heaters require a 20 lb tank sold separately. Natural gas patio heaters have the same great heat output as propane heaters, but require a natural gas hook-up (which means no propane tanks to fill). The amount of heat a propane or natural gas unit produces is measured in British Thermal Units or BTUs, and the higher the BTU the higher heat output.
Electric Outdoor Patio Heaters
If you don't want to deal with another heavy propane tank, check out electric space heater options for quick, plug and go warmth. Many electric patio heaters are energy efficient and kind to the environment since they don't release carbon dioxide while warming. Plus, there are many electric heaters that can be mounted to ceilings and walls for clutter-free comfort. The warmth electric heaters churn out can be measured in BTUs or Watts (the higher the wattage, the more heat you get). With the plug in units, you'll never have to worry about running out of propane, and can use them for both inside and outside space heating!
So go ahead, plan that outdoor movie night with the kids, or enjoy a quiet evening of self care, wrapped in the warm glow of a porch heater.
The Best Propane & Natural Gas Outdoor Patio Heaters
The Best Electric Outdoor Patio Heaters
The Best Tabletop Patio Heaters
Looking for more comfy cozy home inspiration? Snuggle in, stay warm and visit us here.
This article was originally published on