If You Only Use ONE Anti-Aging Ingredient, Make It Retinol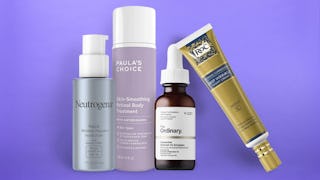 Whether you're a beauty product noob or you've been slathering your face with lotions and potions since you were in middle school, you're definitely familiar with the anti-aging superstar ingredient known as retinol. It's touted as an aging skin cure-all that prevents wrinkles, heals skin damage, brightens dull skin, and treats acne, and does windows. Okay, we made that last part up, but retinol does pretty much everything else.
So you know it's great for your skin, but what you might NOT know is that all products with retinol are not equally effective at doing all that stuff. Plus, there are different kinds of retinols and some are stronger than others. Let us lay it down for you, Mama.
WTF is Retinol?
Retinol is actually one type of retinoid – the umbrella term for all vitamin-A derivatives. Some retinoids are stronger than others – a few are only available as prescriptions from your dermatologist, in fact. Retinoids that are available over the counter — and the ones you commonly find in beauty products on the shelf of your drustore or local Sephora — include retinyl palmitate (the weakest of the retinoids), retinol (the next strongest and most tolerable), retinaldehyde (even stronger), or adapalene (the strongest over-the-counter option that's also specifically formulated to treat acne).
What's so great about it?
The hype is legit. It does indeed make your skin act younger when used consistently. On a cellular level, it actually enhances collagen production, smoothes skin, and evens out pigmentation.
Okay, I'm in. How do I use it?
Look for serums and moisturizers that contain retinol, either in a percentage or as one of the earlier listed ingredients to ensure you're getting enough in your product to make a difference in your skin. HOWEVER, ease into applying it, because it can initially cause irritation, redness, and burning if you're not used to it. Start with a very small amount on a dry, cleansed face only once a week to see how your skin reacts. Keep upping the frequency and stick with it, and soon you'll be basking in the glow of the retinol revolution.
BEST PRODUCTS WITH RETINOL
This drugstore favorite is a great way to ease into using retinol if you're a first timer. The oil-free and non-comedogenic formula has been tested by dermatologists and is clinically proven to visibly reduce the look of fine lines and deep wrinkles within 12 weeks. Says one reviewer,
"This product has completely changed the appearance of my under-eyes and forehead. I have been applying it to my under-eyes and crows feet and forehead and my eyes look lifted and youthful. My forehead wrinkles have faded significantly."
All good things come to those who wait, but if you're in a hurry to see results, give this retinol moisturizer a try. It contains Retinol SA, Neutrogena's special retinol blend, which renews the look of the skin to diminish the look of age spots. This cream also has a broad-spectrum sunscreen, so you're not making new wrinkles as quickly as you're working to smooth out your old ones. Says one less wrinkled reviewer,
"This stuff is AMAZING! I'm 40 years old and have battled dry skin all my life. This significantly decreased my wrinkles and creases – all without any oily residue. It's taken 10 years off my appearance. I'll be ordering it for my mother next."
This amazingly-priced serum is derived from 98% natural and 72% organic ingredients. It's also cruelty and paraben free. What IS in it? A powerful combo of retinol and botanical hyaluronic acid. Says one user,
"This is my second time ordering this product, so of course I love it. I was using a really expensive retinoid cream from my dermatologist. I couldn't even use it everyday, only once a week. I love this not only because I can use it every night but I also can spot treat for daytime, I just mix it with my argan oil and I'm good."
This creamy moisturizer contains all the usual suspects of powerful ingredients to address multiple signs of aging, including vitamin C, hyaluronic acid, and other nourishing oils and extracts. It visibly smooths lines and wrinkles while reducing discoloration and blemishes on the skin. Says one customer,
"Oh how I love this moisturizer! It has so many great anti-aging ingredients, smells fresh, and leaves my skin looking and feeling firmer. I have tried many moisturizers in the pursuit of something that would make my skin look younger and fresher while not feeling greasy or heavy. This one is it!"
This thick and creamy formulation delivers noticeable results without the irritation, redness and dryness of other retinol products. That's because it contains a laundry list of soothing, calming ingredients like hyaluronic acid, vitamin E, green tea, shea Butter, and jojoba oil. With over 5k+ reviews on Amazon, it's doing something right. Says one picky user,
"Let me first say I'm a VERY picky retinol user. I usually use a high end organic product, but thought I'd give this one a whirl given the reviews. I'm a tried and proven convert now. I LOVE this product. It is so luxurious, never causes burning, peeling or redness. Truthfully, I think this is best retinol cream I've ever used and that's just how it FEELS on my skin."
Specifically targeting acne, this powerful retinoid was previously only available with a prescription, but has been on the OTC market for a few years. In a clinical study, Differin Gel provided an up to 87 % reduction in acne lesions after 12 weeks. Sold! Says one user,
"This product works! I have been struggling with acne since high school (age 26 now) and have tried every over the counter product including benzoyl peroxide, proactive and several birth controls to no avail…When this became available without a prescription I bought it, I had low expectations. I was pleasantly surprised! My skins is clearing up so well that I can finally focus on healing scars now rather than covering up active breakouts! "
Surprise! Retinol is NOT JUST good for your face! You can actually use it all over to boost your skin's youthfulness. This body cream contains retinol and other antioxidants to smooth and hydrate skin from head to toe. Says one smooth operator,
"I only got this 5 days ago and I honestly can't believe the difference it has made in my legs in such a very short time…I noticed a difference in my skin texture and the eczema patches when I woke up the morning after applying this for the first time! I'm buying another bottle ASAP because I just don't want to be without it."
We love all things Drunk Elephant around here, and their retinol cream is no exception. This uses a vegan form of retinol and combines it with complementary ingredients like Vitamin F, passionfruit, apricot, marula and jojoba oils to nourish skin and kale, winter cherry, and xanthophylls to protect against environmental stressors. Says one happy reviewer,
"Have used many products over the years and have used this for the last 6 months…nothing I have used compared to the results…love my skin and have had 5 people ask me if I've had work done!!!"
Think quality retinol products have to cost an arm and a leg? Think again. The Ordinary brand has an extraordinary way of offering top shelf products for house prices. The active retinoid ingredient they use in this serum claims to be more effective and less irritating than other forms. Does it work? Read this review,
"I've been a Sephora member for over 5 years and this is the first review I've ever written, I've never been more impressed with a product before in my LIFE. I would pay $70 a bottle for how amazing this works! Saw results after 2 days and now I want to buy the whole collection!! I have very sensitive skin and this didn't irritate it at all, i almost started crying when I woke up and saw how good my skin looked. You will not be disappointed!!"
Because retinol is extremely sensitive to light and air, it's critical to keep it in a stable product package to prevent it from losing potency. These capsules keep everything sealed and fresh until you're ready to twist each one open and use it. Says one capsule-popper,
"It is the freaking fountain of youth! The greasy feeling goes away and it absorbs into your face and it literally looks like I've taken 15 YEARS off my face. If I have an important meeting, I always make sure I apply this stuff beforehand. The results don't require overnight. It is almost immediately within a half hour I notice my skin plump up. AMAZING!"
This drugstore option is considered the gateway drug into the world of retinol. It was one of the first mainstream OTC options on the market and uncovers vibrant, healthier looking skin with less visible wrinkles starting in just two weeks. Says one tried and true user,
"I've been using this product since my early 40s. I am now 53 and am told I look like I'm in my 30s. It really is the best retinol serum I've ever used…I have tried other, more expensive, high-end products and keep coming back to this Deep Wrinkle Serum, it really works!"
Another great way to get your daily (or bi-weekly) dose of retinol is to mix a more potent formula into a soothing moisturizer to ease your irritation. This gel-cream contains a packs a powerful punch of 1% retinol, but can be mixed with another cream to make it more tolerable. Says one mix master,
"Retinol without a bunch of unnecessary ingredients, so no scent and no cones (that clog my pores). Thank goodness. I love that I can add this to an inexpensive night cream for myself."
Although we only recommend picks we really love, we may earn a commission on purchases made through links from our site.
This article was originally published on