10 Scary Halloween Costumes For Couples So You And Your Partner Can Steal The Show
by Julia Guerra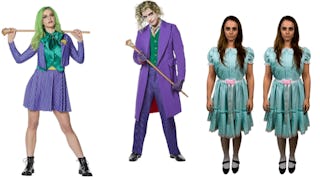 Here at ScaryMommy, we love love, but we also love a good spook. Skip the celebrity couples, the romance movie icons, and the he's-the-peanut-butter-to-my-jelly costumes. If you really want to spice up date night, dress up in a scary couple's costume on October 31. After all, parents need to let go a little, too. And, trust us, it'll feel so good to play bad.
Hockey uniform, but make it slasher. You could say Jason Voorhees made 10 comebacks too many, but come every Halloween, the slasher legend still remains relevant at the costume store. If this scary couples' costume doesn't scare the sh*t out of your kid, at the very least, it will probably deter them from signing up for hockey tryouts.
Before there was Toy Story, there was Child's Play, and though Pixar would like us to believe otherwise, Chucky is proof — dolls are the creepiest toys on your kid's shelf. So what better way to celebrate All Hallow's Eve than by dressing up as Hollywood's favorite possessed plastic serial killer and his blood-thirsty bride-to-be?
"Do you believe in the boogeyman?" Freddy Krueger might only exist in the realm of fantasy horror, but Rubie's Nightmare on Elm Street Deluxe Sweater and Miss Krueger scary couples costumes bring the clawed serial killer to life. Just make sure the metal glove stays out of reach of children.
There's nothing funny about Batman's serial-killer clown arch-nemesis. There is, however, something fascinatingly chic about Spirit Halloween's Joker Tie Dress costume. To quote the psychotic jokes man Heath Ledger portrayed in The Dark Knight, your city "deserves a better class of criminal," and on Halloween night, you and bae are going to be it in this scary couple's costume, complete with purple pinstripes and painted-on scars.
If there's anything more horrifying than a ghost with unfinished business, it's twin ghosts haunting for a playmate. Dressing up as The Shining's Grady twins will make you a shoo-in for scariest couples costume of 2019. The movie might be old hat, but eerie child spirits never lose their scare factor.
Clowns aren't silly, they're sinister — good luck trying to convince us otherwise. Whether you're posing as Stephen King's Pennywise or Spirit Halloween's own Twisted Clown, don't be surprised when your children run away from instead of towards you. Of course, you could nix the horrifying mask, or do your makeup less blood-thirsty and more circus-like, but where's the fun in that?
Haven't you heard? We're all mad here, Mom, and there's no better time to look the part than on Halloween night. California Costumes' vision of Alice in Wonderland veiled in black and white definitely gives Lewis Carrol's classic novel a menacing air. And though Alice and the Mad Hatter definitely make for an epic scary couples' costume, there's always room for more at the tea table. You could easily make this a family Halloween costume by adding a Red Queen or White Rabbit to the lineup.
You don't have to repeat his name three times; Beetlejuice can appear at the click of "add to cart" with Rubie's deluxe costume. Each of the ensembles in this scary couples' costume are spot-on replicas of Michael Keeton and Winona Ryder's looks in the film. Just add some bad breath and sassy attitudes, and you're set.
Fair warning: You might not want to portray this duo around the kids if your little ones are relatively chill during doctor's visits. That aside, as far as we're concerned, playing doctor is by far the comfiest scary couples costume you will find. Spirit Halloween's sets are basically just scrubs and a no-frills dress splattered with red paint. Plus, both costumes can come in handy after October 31st — if you know what we mean. Wink, wink.
California Costumes' scarecrows are not the singing, yellow-brick-road-skipping type. They're more so the haunt-you-in-your-sleep, Children of the Corn type. It's no wonder the women's costume alone has garnered over 10,000 reviews on Amazon; just the sight of these stuffed mannequins will be enough to give trick-or-treaters nightmares for weeks.
Although we only recommend picks we really love, we may earn a commission on purchases made through links from our site.
This article was originally published on