The Very Best Sippy Cups For Transitioning Away From The Bottle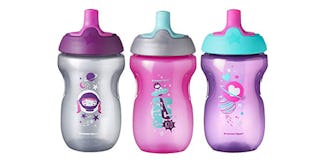 Amazon
Sippy cups are the natural next step from transitioning Baby from the bottle stage, and there are a lot of options to choose from. There are stainless steel sippy cups, sippy cups with straws, soft and hard nipple cups, and toddler sippy cups to train them how to use a "big kid" cup. Luckily, with trusted brands like Nuk, Nuby, Munchkin, Avent, and many more, you really can't go wrong, but it all boils down to a matter of preference for you and your little one. Ease of cleaning, bottle material, and the stage your baby's at (is it their first post-bottle sippy cup? Do they like drinking from straws? Does your toddler want to tote their drink around?) are all things to consider.
When should a baby use a sippy cup?
The bottle stage is one of the sweetest times of your life with your child. But, let's be honest, you've been daydreaming of the time when your kiddo can feed themself. Well, if your child is between the ages of 1 and 2, it just might be time since that's when the American Academy of Pediatrics recommends introducing the sippy cup.
What's the best way to introduce your baby to a sippy cup?
As with most transitions, like moving your baby from the bassinet to the crib and from the swaddle to the sleep sack, there may be a few hiccups along the way when it comes to getting your child used to the sippy cup. Hey, you can relate—mommin' wasn't easy at first (and probably still isn't), but it gets easier as time goes by!
Luckily, baby and toddler brands are tirelessly determined to help make things easier for us parents, which is why they've created some of the most innovative sippy cups to help with the transition away from the bottle. These sippy cups are easy to use thanks to handles and grip-friendly linings—and many mimic a traditional bottle nipple, but help your child slowly develop the skill set to no longer suck, but instead sip!
The only problem is that there is an overwhelming amount of sippy cups on the market today, each with their own features and functionality. To help guide you towards the best of the bunch, we're sharing some sippy cups that get the mom stamp of approval.
Best Sippy Cups For Transitioning From Bottle
Best Stainless Steel Sippy Cups:
Best Sippy Cups With Straws
Best Toddler Sippy Cups
Now that you've got your sippy cups squared away, check out more mom-approved baby gear that we think you'll love.