You Had One Kid, Now There Are Two (Or More!). You Need A Sit And Stand Stroller. Thank Us Later.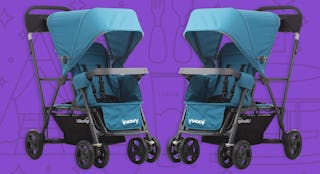 Somehow, it's happened. You have not one, but TWO kids (what?!). And you now have to cart both of them around town without losing one (or your mind). But fret not, thanks to the genius invention that is the sit-and-stand stroller. It's exactly as described—one kid sits, one kid stands, and you get a mini-workout in trying to push both uphill. Perfect for a snoozy infant and a wiggly toddler, the sit-stand stroller is a must-have for trips to storytime or the playground or the grocery store. And bonus—unlike that land yacht of a double stroller you got secondhand from your sister, these will actually fit in your trunk. Here's our list of the best sit and stand strollers and ride-on boards around.
Best For Solo Standers (And One Infant)
Perfect for the older kiddo who loves to zoom around without being tied down (strapped in).
Great For Twins (Or More!)
Got two kids still in carseats or sitting-mode only? Try one of these versatile options.
Ride-On Board Add-Ons
Still in love with your current stroller? Try one of these standing adapters to make that single a double.
And for your other baby gear needs, right this way.
This article was originally published on