10 Best Sound Machines For Baby Nurseries And Kids' Rooms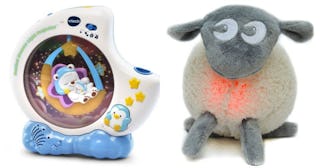 PSA: We're done counting sheep. Sleep machines are a tried-and-true way to encourage little ones to fall asleep, and there are certain ones on the market that you can depend on. Baby sound machines and alternative white noise sound machines for kids & babies can help promote quick-to-fall, restful slumber. So, whether you have a new baby, a child with difficulty falling asleep, or even if you yourself struggle to get some quality shut-eye, a sound machine can help.
Keep reading on for our favorite sound machines that will help put your baby, your kids, or even you to sleep.
9 SOOTHING SOUNDS, 4 TIMING MODES, AND SO MUCH MORE
This white noise sleep therapy machine is portable, so you can move it into whichever room necessary and even take it on the go. It has so many amazing features like a practical noise reduction function that conceals noise interference, nine nature sounds (white noise, helicopter, stove, fire, beach, brook, rain, thunder, forest, and summer night), and four timing modes: 15, 30, 60, and 120 minutes.
THE ORIGINAL SOUND MACHINE
The original sound machine first came out in 1962 and this classic model retains all the same features that we've been loving for generations. The fan-based natural white noise creates the air-unique rushing sound, known as the Marpac Sound. It features two speed options with adjustable tone and volume, allowing users to personalize their sound environment.
DON'T COUNT SHEEP, LISTEN TO THEM
Ewan the Dream Sheep is the perfect accessory for little minds who have difficulty falling asleep. This portable (and fluffy!) sound machine replicates the comfort of the womb with soothing sounds that include recordings of Mom's womb and heartbeat. For children who are afraid of the dark, you can turn on Ewan's pink night light that stays on for 20 minutes before automatically shutting off.
WITH GUIDED MEDITATION
If you or your kids have trouble getting to sleep, the many soothing sounds of this Homedic sound machine is sure to get you to dreamland. With options like white, brown, and pink noise, as well as several nature sound options, it'll have you sleeping in no time.
It also has a "supportive sleep" feature that provides three different guided sleep meditation programs. Never pay for a meditation app again!
RHYTHMIC AND SOOTHING
The LATME noise machine specializes in white noise. It helps block distractions and creates a peaceful environment so the listener can sleep, relax, and concentrate. With rhythmic noise options, your baby can fall asleep faster with LATME, whether you put it on the fetal, stream, rain, or forest mode.
The built-in DUAL speakers provide a high-frequency acoustic field that sounds high-quality and clean. You can also plug in 3.5 mm headphones if you don't want to share the sound with others. LATME has a memory of its own, and it can actually remember the setting of sound, volume, and timer it was on last.
ON CLOUD 9
Perfect for leading babies right to dreamland, this cloud-shaped baby sound machine and night light plays five calming nature sounds. It also features eight changing colors. Offering a soft night glow while Baby slumbers, this cloud of peacefulness attaches to most cribs, strollers, and headrests with the help of a short velcro strap.
SOUND WITH A SPLASH OF LAVENDER
As if peaceful sleep sounds and white noise aren't enough to get you to sleep (the exhaustion helps), this half-sound machine, half-aromatherapy diffuser is sure to do the job. Equipped with six soothing nature sounds and seven LED color-changing lights, this ArtNaturals product blocks ambient noises while relaxing the mind and readying the body for sleep by diffusing the essential oils of your choice.
NIGHTY NIGHT
Both a sound machine and a light projector, this Baby Musical Dream device by VTech works with your baby by hearing her cries and responding with soothing music. Genius! After the sound sensor detects a cry, the projector plays calming melodies and sounds that lull Baby back to sleep. Plus, the cute bear projected on the ceiling rocks gently back and forth, which is also so soothing for Baby.
LULLABIES GALORE
The MyBaby SoundSpa Lullaby machine has three sounds and three classic lullabies in its arsenal. It also features a built-in projector that comes with a one-image disk featuring diverse scenes that cast soothing images onto the ceiling or wall. Rotate the disk to change the scene to one Baby loves falling asleep to most.
YOU NEED TO CALM DOWN
Problems going to sleep? Anxiety? Douni has 24 soothing sounds in seven different categories: White noise, fan sounds, classical nature sounds, and more. With its stylish wood grain finish, the Douni sleep machine is cuter than most and would look nice anywhere, whether it be a nursery, a kid's room, or the office so you can concentrate. It easily fits in your backpack or suitcase, making it the perfect accessory for travel.
More:
These Are the Best Pink Backpacks for Cool Gals to Wear in 2019
These Cheap School Supplies Make BTS Shopping Feel a Little Better
Bubble Guppies Is Taking Over Our Lives But These Toys Are Must-Haves for True Fans
This article was originally published on