The Sweetest Sweet Sixteen Gifts Your Teen Will Be #Obsessed With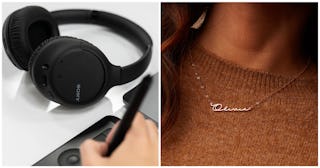 Amazon/Etsy
There are regular birthdays, and then there are 16th birthdays, and Sweet 16 birthday gifts are required to be a little more special than most. While every birthday feels like a big deal when you're a kid, none are as exciting—or as important—as your 16th. You can drive! You're almost an adult! You're thinking about college! There are so many things that make a teenager's sweet 16 so special—and so deserving of a great gift to celebrate.
If your daughter, granddaughter, or any other teen in your life is turning 16, we've rounded up 27 of the best sweet 16 gifts that they'll actually appreciate. Whether it's a cute lanyard for their new car keys, a custom name necklace, or a trendy Patagonia pullover, these are the presents guaranteed to make their milestone birthday that much better.
Best Sweet 16 Gifts
Sweet 16 Gifts for Daughter
Sweet 16 Gifts for Granddaughter
Find all of our gift guides—for everyone from the men in your life to the new parents—here.