The Best Thermometers For Kids & Adults To Help The Whole Family Stay Healthy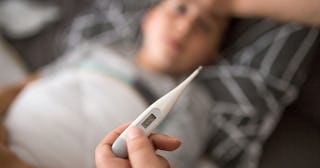 Getty Images
The best thermometer to have in your medicine cabinet will suit the entire family — both kids and adults, alike. When your kiddos (or you) are feeling under the weather, one of the first things you do is check their temperature. While the back of the hand to the forehead method gives you an initial sense of heat, it's important to have a reliable thermometer; that way, you can gauge if there's a fever burning or your kid is just warm from testing the heart rate feature on their new Fitbit. You probably have a designated baby thermometer if you have an infant, but for toddlers, older kids, and you, a forehead/ear or oral thermometer should do the trick (and some can be used with babies, too).
As if you weren't health-aware before, post-2020 you're probably extra cautious when someone in the family shows any sign of illness — or maybe daily temperature checks have become routine in your home. Needless to say, having a trusty thermometer on hand is an absolute wellness essential for any family.
What kind of thermometer is most accurate?
According to Mayo Clinic, if you're using a contact thermometer, rectal temperatures are the most accurate for infants 3 months and younger as well as children up to 3 years old. Oral temperatures are usually accurate for older children and adults as long as you position the thermometer correctly and keep the mouth closed.
While not quite as accurate, forehead contact and no-contact thermometers are a great option for taking readings on wiggly children. Mayo Clinic says these are appropriate for children of all ages. Ear thermometers are a good option, too, but should only be used for children 6 months and older.
When should you worry about a fever?
According to Healthline, temperatures at which to call the doctor are:
100.4 degrees for infants under 3 months
102.2 degrees for children 3 months to 3 years old
102 degrees for 2 or more days in children over 3 years old
104 degrees for anyone (children and adults)
Bottom line: If you're ever concerned about a fever or symptoms, it's always safest to call the doctor.
***
Whether you prefer a traditional oral stick or need a forehead or ear reader, there are lots of thermometer options that can provide fast, accurate readings so you know how to respond immediately. Ahead are 11 of the best thermometers for kids and adults to have nearby if someone starts feeling icky.
Best Forehead & Ear Thermometers For Kids & Adults
Best Oral, Armpit & Rectal Thermometers For Kids & Adults