The Best Tooth Products For Kids To Keep Them Brushing AND Smiling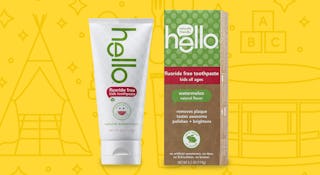 Just when you thought you had this whole mom thing under control—boom!—your kid pops some teeth and has you (once again) thrown for a f*cking loop. Yes, on top of feeding them, changing them and making sure they don't kill themselves, you're tasked with the seemingly impossible job of brushing their choppers each and every night. No matter how much you hate to do it, cleaning their mouth and gums before they go to bed at night, sometime after putting on pajamas and before reading a bedtime book, is super important.
So pretty much as soon as your kid pops their first pearly white, it's time to get down to business and practice oral hygiene. And as their teeth erupt and grow, you'll need to be fully equipped with all the right dental accoutrements: namely a soft bristle toothbrush and fluoride toothpaste. Otherwise, bacteria can break down simple carbohydrates and lead to cavities, explains Morvarid (Mori) Aletomeh, D.D.S., pediatric dentist at Pearly Smiles Pediatric Dentistry, Torrance, California. "The soft bristles will move the biofilm and bacteria away from the gumline and teeth, so be sure to go close to the gums and be gentle," explains Dr. Aletomeh.
And don't forget about the floss and mouth rinse! "You, as parents, have to be the detective to see when flossing is needed!" she says. "Some kids have fantastic spaces between their teeth and don't need to floss, others have snug teeth and definitely need Mom and Dad to help with flossing." As for mouth rinse, she only recommends it when kids are at the age that they can spit (usually around 6 or 7 years old).
Okay so, as you can tell, your kid needs more than a toothbrush to avoid dreaded dental anxiety by age five. Here are some of the dentist-recommended products you'll want to stock up on for your tiny flosser.
Looking to stock up on more kids gear? We've got you covered with the goods that'll help make your day-to-day go more smoothly.
This article was originally published on