The 9 Best Tweezers For Everything From Grooming Eyebrows To Yanking Out Splinters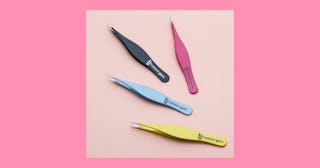 The importance of a great set of tweezers in your beauty (and parenting) tool kit cannot be overstated. For everything from brow shaping to yanking out splinters— a pair of effective, effortless, and (almost) pain-free pluckers is a must-have. But with tons of options out there, finding the best tweezers for your needs can be, in a word, overwhelming. To help identify your perfect set, we turned to Fern Marcus, President of the Swiss brand, Regine Tweezer— where each handmade pair of tweezers goes through a 40-step process to perfect tip alignment, tension, and angle, before reaching final examination under a microscope.
So what makes the best tweezers, well, the best? According to Marcus, it comes down to several key features. A really great pair of tweezers will have perfect alignment, for one. "When the tips of the tweezers are in perfect alignment, they will pull each hair from the root every time," says Marcus, "Less tugging means less pain! Misaligned tips will make it hard to pluck each hair from the root effectively because the tweezers slip or break the hair and that's what causes more painful plucking." Tension is also paramount, as it will allow you to get a perfect grip on the hair and pull it out from the root.
The best tweezers will also come in surgical-grade stainless steel, according to Marcus, who notes, "It's very important that tweezers are made of surgical grade stainless steel so you can sanitize the tweezers after each use without them rusting or tarnishing. Make sure you look for steel that is tempered–the hardening process strengthens the steel so that the tweezers will never require sharpening and they will never lose their edge. The tempering process also means that they will last a lifetime."
Whether you're looking for the best tweezers for plucking brow- or facial hairs, or a set that will draw out in-growns and splinters, there's an option awaiting you ahead. Scroll on to snag your perfect pair.
Now that you've found the best tweezers for you, shop more beauty must-haves to stock your medicine cabinet!