Keep Hydrated Or Caffeinated With The 10 Best Canteens and Water Bottles To Quench Your Thirst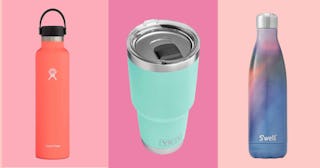 Water bottles and travel cups are everywhere these days…and for good reason! There is of course the environment – how many single use straws and plastic bottles end up in the ocean again? Then there is saving money – come on, you know those Starbucks coffees do add up. And what about the quest for hydration? We are a thirsty bunch who is in need of constant caffeination (any maybe water when necessary) to make our way through daily life. Most of us already have canteens for the kiddos. But do you have a canteen (or two) for your adult life?
Staying hydrated and caffeinated is an essential fuel for parenthood. And let's not kid ourselves the occasional cold cocktail helps to take the edge off too. Cheers yourself for being financially savvy, eco friendly, and a bad a** parent with one of these canteens. Say goodbye to single use bottles and paper coffee cups and make an easy switch to these reusable alternatives.
Make adulting look easy with more life hacks for your home and kitchen (beyond water and coffee) from parents who've tried it all.