These Black Friday Beauty Deals Are Just Gorgeous
by Rachael Lubarsky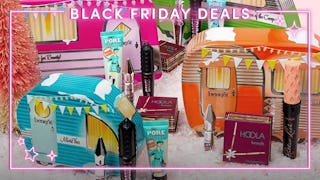 Like you, this story will get better with age. Keep checking back through Black Friday as we add even more great deals.
UPDATED 11/29/19 AT 2:30 PM EST
We all know keeping up a quality beauty routine ain't cheap. That's why you shouldn't forget to shop beauty when doing Black Friday.
This year we're gushing over all of the beauty sales offered by our favorites. Starting today, Birchbox has a BOGO (buy-one-get-one) deal for cult-favorite beauty products and The Body Shop has had its BF sale running since last Saturday with 40% off sitewide through Cyber Monday.
RELATED: The Best Drugstore Eyeliners That Work *Without* Costing a Fortune
Once you've replenished your own cosmetics case, go on and get some gifts for the other gals in your life. Whether it be your mom, sister, gal pal or coworker, you can't go wrong when giving the gift of beauty this holiday season.
BEAUTY BRAND DEALS
CoverGirl's got more than 400 products at 30% OFF at Amazon right now!
Grab 35% OFF sitewide at Stila through Dec. 1 with CODE: BF35
Love Benefit? Get 25% OFF EVERYTHING plus FREE shipping with CODE: FRIYAY
You can grab 25% OFF sitewide at Bareminerals with CODE: ITSON
Stock up on sun essentials NOW with 25% OFF everything at Supergoop with CODE: GET20
Shop all of Ulta's Black Friday Beauty Busters while supplies last.
Sephora's got $15 and under deals that are the best stocking stuffers for your favorite beauty bff.
35% OFF (was $59.95)
35% OFF (was $20)
41% OFF (was $19.99)
38% OFF (was $59.99)
50% OFF (was $199.99)
50% OFF (was $36 for two)
25% OFF (was $27)
62% OFF (valued at $128)
25% OFF (was $27)
20% off (was $58)
50% OFF (was $50 for two)
48% OFF (was $21)
40% OFF (was $21)
40% OFF (was $28)
40% OFF (was $24)
21% OFF (was $29)
30% off
12% OFF (was $18)
OK, step to it! From magnetic lashes to teeth whitening pens to totally restorative face creams, masks, and serums, these are the products to add to your beauty routine as we head into the holidays and beyond.
Check out all of our Black Friday guides.
If you love a good Black Friday deal, then you'll also love our other holiday gift guides.