These Black Friday Deals On Toys And Games Aren't Playing Around!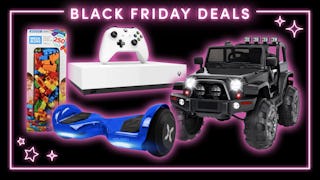 Getty
Like you, this story will get better with age. Keep checking back through Black Friday as we add even more great deals.
Listen, you're going to buy toys no matter what you say. Those damned commercials remind kids of all the new items they *need* in their lives. Well, it's Black Friday, which means at least the toys and games are on sale. A whole fleet of our favorite retailers have put their best children's products on markdown — and there's something on sale for every child, no matter their age or interests.
RELATED: 10 Best Disney Toys To Keep Kids Living Their Most Magical Lives Right At Home
Below, we've rounded up a list of the best Black Friday toy sales for 2019. From Frozen-themed toys to go along with last week's release of Disney's Frozen 2 (it's going to be around a while, #sorry), to a hoverboard with LED wheels that light up, to majorly marked down gaming consoles.
These toys and games will make great gifts for the holidays or for upcoming birthdays. You may as well stock up on things they will love, even if they didn't come direct from Santa's workshop.
RELATED: These Minecraft LEGO Sets Are Awesome — If You're Not A Square
30% OFF (was $49.99)
20% OFF (was $50)
40% OFF (was $148)
20% OFF (was $249)
20% OFF (was $25)
41% OFF (was $17)
40% OFF (was $250)
50% OFF (was $30)
26% OFF (was $23)
60% OFF (was $50)
46% OFF (was $329)
37% OFF (was $60)
47% OFF (was $417)
29% OFF (was $99)
42% OFF (was $130)
40% OFF (was $60)
41% OFF (was $110)
14% OFF (was $14)
Want more Black Friday deals? Check out all our Black Friday guides and score top deals before they're gone.
If you love a good Black Friday deal, then you'll also love our other holiday gift guides.