The Most Gorgeous Boudoir Photoshoot Ideas You Can Totally DIY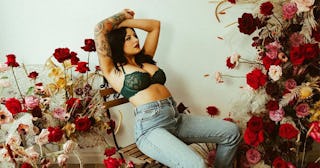 still.alyssa/Instagram
Oh hey, hot stuff. Yeah, you! Thinking of scheduling a boudoir photoshoot? Either for yourself or your partner, a boudoir photo shoot is a fun way to celebrate your amazing body and self. To help you navigate where to start and give you some inspo, we've rounded up the best boudoir photoshoot ideas that will convince you, "Yeah, I should photograph my super sexy self!" Fun fact: when it comes to taking boudoir photos, remember, you're in charge of how you want them to look. For boudoir outfits, how dressed (or undressed!) you are, from jeans and a cami to sexy lingerie to nothing at all, is up to you. So is everything else about the boudoir shoot. Do you want a studio shoot? An in-home session? A professional photographer or a BFF who knows your best angles?
Boudoir shoots are all about feeling sexy, having fun, and loving yourself. So choose a photographer you're comfortable with (unless you're taking photos yourself) and whatever clothes – or no clothes! – that make you feel your sexiest. Then pop open a bottle of Champagne and strike a pose!
No matter your jeans size or cup size, and no matter if you're coupled up or not, boudoir photoshoots are meant to empower you. For more inspiration, scroll on for boudoir outfit ideas for everybody and every body – including plus size boudoir outfits! We've found the ideas, outfits, and props that will make shopping for a boudoir shoot a breeze.
Boudoir Photoshoot Ideas
No need for a big production.
Boudoir photo shoots don't have to be a big to-do, like Silja Danielsen models below. Enlist a trusted friend to come over and capture your seductive side. Throw on whatever boudoir outfit makes you feel sexy – maybe something like Silja's Levi's and silky, lacy bra paired with a fresh face and natural hair? She both looks like herself and looks like she's feeling herself. Win/win.
We also love this red bralette that really pops from Savage x Fenty.
Show off your ass-ets.
Love your big, bountiful booty? Get close-ups. All those squats you've been doing aren't for nothing! Relay to your photographer your favorite body parts so he or she can capture them in their best light. If your backside is your calling card, show it off with a cute pair of boy shorts, frilly floral undies, or… how about nothing at all?
Have fun with it!
A rule of boudoir photo shoots: don't take yourself too seriously. So go ahead, throw up a peace sign, stick out your tongue and dance in your kitchen, just like Jessica Bate did below. A simple Calvin Klein bra and undie set lets your personality (and hot bod!) shine through.
Grab your partner for a couples shoot.
The only thing sexier than one hot lady in a boudoir shoot is one hot lady with her hot partner in a boudoir shoot. Photographer Gene Pease captured this oh-so sexy couple in their natural habitat – you know, bed – for photos they will treasure forever. And to think, all you need is a pair of jeans, a good hair day and a partner you can convince.
Decorate your studio in florals.
If you're the "go big or go home" type, go big – very, very big. Like with a studio full of gorgeous flowers you can pose amongst. Pair the florals with a lacy bra and a casual pose, as if to say, "Oh, this old studio full of flowers? NBD."
Pose like an ethereal angel.
Because you are an ethereal angel! Lean back and soak in your seductiveness with a luxurious boudoir photo shoot set and outfit: a custom bodysuit from linyage, a faux fur throw, pillow and sheer white curtains. If only we could make our bedrooms this sexy.
Celebrate Valentine's Day (or any day!) in style.
Valentine's Day or not, show off your love of love – and your self-love – in your boudoir shoot surrounded by a dozen of red heart-shaped balloons. Jacque Kennedy did here, and the results are playfully fun. How about gifting your partner with a few of those balloons and a few prints from your boudoir shoot for a Valentine's Day to remember?
Look like yourself. When you get your boudoir photos back, do you want to look like a pin-up girl, or do you want to look like yourself? Embrace those curves, that smile, every last inch of you – the real you, with makeup that enhances your natural beauty and lingerie you'd actually wear for a night in with your partner. That way, when you'll look back at the pics years from now, you'll recognize your sexy, sexy self.
This paisley caged bra is also really fun and really sweet.