The Best Breastfeeding Pads For Preventing Leaks While Nursing
by Jenn Sinrich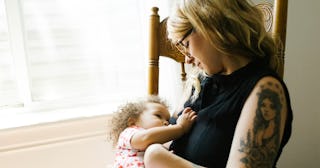 Getty Images/Jessica Peterson
You might be looking for breastfeeding pads, and that's because they can be a great solution to an annoying problem. Let's discuss. Breastfeeding is a beautiful thing, but it doesn't always look pretty—especially when you're leaking like a faucet and your baby is having a tough time latching on (and if your nipples are cracked and sore, may we suggest some nipple cream?). If only someone gave you a heads up when you signed on to breastfeed your child that the second he started nursing from one side that the other one would go off like a fire hose (or just about any time you make eye contact with your crying baby—or any baby for that matter).
Luckily, there are products out there to handle even the most pesky parts of the breastfeeding process. They're called nursing, or breastfeeding, pads and they work just like you'd imagine—they sit in your nursing bra to collect all of that extra milk that pours out from the non-feeding breast. They keep you dry and help protect your clothing from those dreaded milk stains (no one likes walking around with two overtly obvious wet halos around their nipples).
Like most baby products, nursing pads come in both disposable and reusable versions. The disposable ones are great because you use them once and don't have to worry about throwing them in the laundry. But if you want to be both eco- and budget-friendly, the reusable kinds work well, and also tend to be softer on your nipples.
Ready to shop breastfeeding pads? Here are some of the best out there in both reusable and disposable styles.
Best Breastfeeding (or Nursing Pads)
Best Reusable Nursing Pads
Best Disposable Nursing Pads