30 Actually Good Bridesmaid Gifts That Won't Get Donated After The Wedding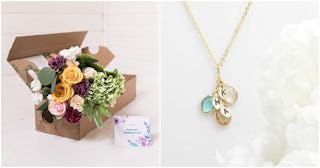 Amazon/Amazon Handmade
Hunting down the best bridesmaids gifts may seem like another daunting task during wedding planning. We get it. Planning a wedding is an exhausting and anxiety-inducing enterprise. Between the expectations of parents, opinions of future in-laws, and every little damn decision, you may be feeling more than a little stressed out. Then there are the eye-bugging articles that instruct, "How to Plan a Wedding in 150 Easy Steps." And figuring out The Dress. And the rings. Not to mention, deciding when to DIY or hire the pros. You're a project manager, coordinator, therapist, stylist, and all-around master juggler. You're probably burning the candle at both ends and are making your eye cream work overtime. It's enough to turn even the most chill of brides into an overwhelmed ball of nerves, stress-eating Haagen Dazs on the couch.
RELATED: 22 Of The Best Sex Positions You'll Want To Try ASAP
Enter your bridesmaids. This is the crew that's been there during bad breakups, bangs, and bosses. These ladies know where the bones are buried and are your wedding day stans. Not only are they there for you at the altar, but they can run interference between family members and take on last-minute coordination. They'll help you chill the eff out so you're not pulling out your updo in stress on the big day. So, you'll want to give them an awesome bridesmaid gift to show how much you appreciate them and to keep your single-life secrets out of the toasts.
So to save you some of your precious time, we've gathered the best, budget-friendly, and most unique bridesmaid gifts out there (we even asked some wedding planning experts). We've also included some bridesmaid proposal gift ideas for when YOU pop the question. And don't forget about a gift for Mom, too!
Best Bridesmaid Gift Ideas
Best Cheap Bridesmaid Gifts
Best Unique Bridesmaid Gifts
Best Will You Be My Bridesmaid Gifts