Build-A-Bear Is Celebrating Shark Week With The Cutest Plushies Ever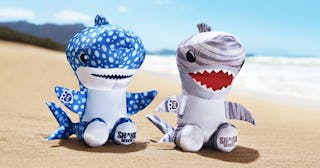 Discovery
BRB, getting to Build-A-Bear before Shark Week starts
Sharks are the coolest animals on the planet, change my mind (except you can't, because this is a scientific fact). The one downside that sharks have always had, though, is that they're not exactly cuddly. It's definitely not recommended that you make any attempt to cuddle with a shark in any situation… until now, thanks to Build-A-Bear.
The store has partnered with Discovery Channel just ahead of Shark Week to release a pair of brand new shark plushies, plus all the clothes and accessories a snuggly shark might need on dry land. There's even some shark-themed accessories for their human best friends to wear. If there's a shark lover in your life, you better get them to a Build-A-Bear, stat.
The shark plushies come in two options: tiger shark and whale shark. To be honest, they're both so cute we're not sure how anyone could ever choose between the two, so you may as well just get both. Thank us later when you're getting those shark snugs from both sides.
And you can't have your shark getting cold — it's breezy up here on dry land, you know. He's gonna need some Shark Week duds to stay cozy and look his best. How about this tank and shorts swim set?
Orange and blue not your shark's colors? No problem! There's another adorable set in red and blue.
Or, if your shark wants to keep things casual up on dry land, this Hawaiian shirt is the perfect, laid-back look for him.
No look is complete without a set of flippy floppies, and since Build-A-Bear's sharks seem to have sprouted legs and feet (making them much more likely to succeed at life outside of the ocean, mind you), you better snag them a pair.
And for the shark that misses his ocean home, there's no better way to reconnect with his nautical roots while still taking advantage of those brand new legs than with a tiny surfboard.
You can get the sharks and just the accessories you want for them separately, or Build-A-Bear offers some handy bundles to make sure your shark is fully outfitted for life on land.
And don't forget to wear your love for your new shark friend for all the world to see by grabbing one of these cool shark slap bracelets, which come in two colors to match your plushie.
Shark Week starts airing July 28 on Discovery, so you don't have much time to get yourself to a Build-A-Bear to create your perfect snuggly viewing partner who won't talk and interrupt all your shark learning. We recommend getting on that now, because snuggly sharks are not something anyone should miss out on.
This article was originally published on