2020 Is The Year To Finally Get Into The Bullet Journal Trend — Here's What You'll Need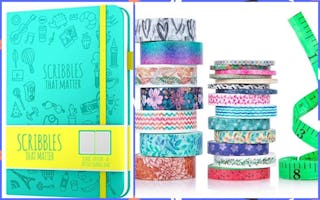 Go to the grocery store? Check. Organize the kids' playroom? Check. Vacuum the living room? Check. As a mom, your life is basically one long, never-ending to-do list. And while we're 100 percent confident in your ability to get it all done, sometimes you need a little help keeping track of it all (and no, the Notes app in your iPhone or the back of that balled-up receipt just isn't going to cut it).
Enter the bullet journal. Different from regular notebooks in that it has dotted pages instead of lined, bullet journals are the cooler, more creative (and according to some experts, more efficient) way of planning out your week, checking off your to-do list, and even daydreaming about your big dreams. And while some of those dreams might be of the perfectly color-coded, expertly-designed bullet journal pages you've seen floating around Instagram, the trend can be a little intimidating if you're just getting started. If anything, maintaining a bullet journal will help keep you inspired when you've been balancing Zoom calls and homeschooling all day/week long.
Bullet journals are for everyone, FYI. Yes, even the kids! They'll just need some supplies to get started.
To help you navigate the bullet journaling trend, we've rounded up some of the best bullet journal supplies below, from the best notebooks to the best pens to the best stickers. All that's left for you to add? Your own creativity (or your kid's)—and maybe a reminder that you have to pick up milk at the store tomorrow, too.
Best Bullet Journal Notebooks
Best Pens For Bullet Journals
Best Bullet Journal Stickers
Ready to organize the rest of your life (and your house)? Find all of our favorite home products here.