Inspired by 'The Queen's Gambit'? Take Your Chess Game to the Next Level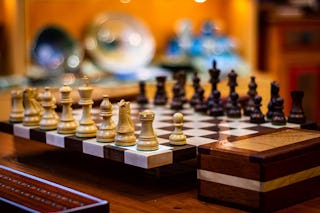 StackCommerce
At this point, most of us have binged "The Queen's Gambit". From drooling over the fantastic '50s and '60s fashion to dreaming about dominating the world of Chess, this Netflix series had us riveted from the very first episode. And if it has inspired you to take your obsession one step further and start playing chess, you're not alone. Tons of "The Queen's Gambit" fans have taken up chess, and if you're hoping to become a whiz, it might be time to take your gaming to the next level.
For those new to the wonderful world of chess, "The Queen's Gambit" is actually a chess opening. If you'd like to become a pro who knows all the lingo, the Learn to Master the Queen's Gambit Course Bundle can help. You'll gain access to three informative courses ready to school you on the chess opening and much more for just $29.99.
Start your chess education with a course taught by Milovan Ratkovic, a Serbian International Master and chess coach that still actively plays in tournaments and knows his stuff. He'll walk you through the course, Queen's Gambit Accepted Mastermind, helping you work on an exciting attacking opening that will dazzle your opponents, in 10 hours of instruction. He'll walk you through the way embracing this opening lets you dictate the rest of the game, showing you modern dynamic methods that will unleash a storm of tactics against White, as well as natural forcing opening moves and casting secrets.
Milovan also teaches Slav Defense Mastermind with IM Milovan Ratkovic, teaching future chess pros the favorite openings of 11 world champions: the Slav Defense. You'll learn lines that serve as deadly weapons in your toughest tournaments, how to catch your opponent in an opening trap, and more within 10 hours of instruction.
You'll also learn from accomplished professional chess coach and Bulgarian champion, Marian Petrov, as he teaches Opening Mastery: Dominate with 1.d4. He'll teach you how to play against and beat players with 10 of the most popular openings after 1.d4, including Queen's Gambit Accepted, Queen's Gambit Declined, Dutch Defense, and more, covered in 10 hours of content.
Ready to win? Get the Learn to Master the Queen's Gambit Course Bundle today for just $29.99 for a limited time.
Prices subject to change.
This article was originally published on