The Best Chess Sets For Kids & Beginners Of Any Age
by Kate Antoniades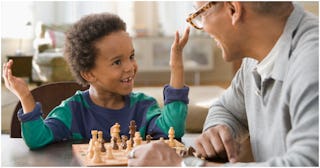 Getty Images / Jose Luis Pelaez Inc
Chess sets run the gamut from kid-oriented to fancy to fun — but no matter what style of set you choose, playing chess is more than just a nice hobby. The game can boost your memory and enhance your planning skills, for example, and the benefits for kids include improved skills in problem-solving, critical thinking, and math. It's also an excellent choice if you're on the hunt for something that's a bit different from the typical family board games and adult board games. (If your kids aren't quite ready for chess, we've got you covered with these toddler board games.) If your children have zero interest in the game, hey, it's their loss — you and your partner or friends can have all the fun. But tempt them with a Harry Potter or LEGO-themed set, and you may pique their interest.
Related: Accio, Remote Control! Cue Up These Magical Movies Like Harry Potter
You might be wondering how to tell when a child is ready to learn chess. Chess instructor and elementary school teacher Erin Prosser says that maturity is more important than age. "If a child can sit and focus for at least 20–25 minutes, then they could learn how to play," she says. Prosser, who has played chess for 25 years, says that in three or four lessons, a kid can become familiar with the board setup and learn the basics of play. "All kids can play chess," she says. "It's just a matter of if they really like it and get interested in it."
Here are a few key things to know while shopping for a chess set: (1) Some chess boards have letters and numbers (chess notation) along the edges — they assign names to the 64 squares. This can be helpful for beginners. (2) "Staunton" can refer to a high-quality brand of chess sets called The House of Staunton as well as the Staunton style of chess pieces, which is the standard. (3) Some chess sets come with an extra queen of each color to use for a promoted pawn; otherwise, you can play with an upside-down rook.
Some of the sets below are specifically designed for kids, while some would be an excellent choice for beginners or collectors any age!
Best Chess Sets
Best Wooden Chess Sets
Best Harry Potter Chess Sets
Best Marble Chess Sets
Best LEGO Chess Sets