The Best Cleaning Toys For Kids, Because It's Always A Good Idea To Pretend Cleaning Is Fun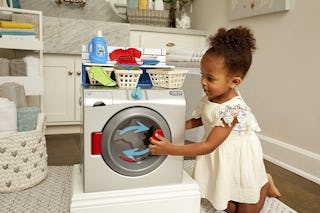 Girl playing with Little Tikes First Washer Dryer
Cleaning toys encourage imaginative play that is great for skill-building at an early age — and they are the perfect toys to complement a playhouse, play kitchen, or even a toy car. However, not all cleaning toys are created equal. The best cleaning toys for kids let your little one emulate a "cool" grown-up task, while still offering plenty of kid-friendly features that will keep them entertained once the novelty has worn off.
Imaginative play is crucial for development, but it can still look pretty realistic. Kids don't know the horrors of soap scum or toilet rings, so to them, cleaning is a fun game that grown-ups get to do. And they make some pretty convincing cleaning toys these days, from a play Dyson vacuum with some genuine suction to a little washing machine with soothing spinning sounds. Or, if you're looking to show your kid the ins and outs of a full day of cleaning, there's a 12-piece set that lets your kiddo do everything from "clean" the windows to mop the floor (there's even a precious "Caution wet floors" sign included). Alternately, if you're short on space and just want a basic set to entertain your kid without it monopolizing precious floor real estate, there are plenty of compact toys and streamlined sets that can be slipped in and out of closets with ease.
Whether you're raising a Type-A neat freak like yourself, or if you just want to instill some good cleaning habits from the get-go, here are the 11 best cleaning toys for kids — and there's one for every budget.
CLEANING TOYS
TOY CLEANING SETS
This article was originally published on