These Are The Safest Baby Crib Toys That Moms Worldwide Recommend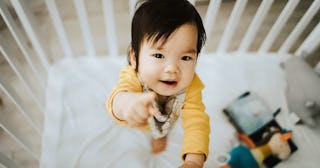 Getty Images/d3sign
To buy a baby crib toys or to not buy a baby crib toys? That is the question. (Plenty of family sayings and jokes here!)Having a baby is scary for plenty of reasons. Aside from wondering what labor will be like, there's the matter of making sure you do everything safe after the baby arrives. Temperatures, clothes, and the safest cribs are big things to worry about. Even though magazines might boast a crib filled with a ton of baby crib toys, that may not be the safest thing to copy. Aside from safety issues, many parents believe that baby crib toys may prevent babies from sleeping at night if they're too entertained.
RELATED: Shake It Up: Here Are The Best Rattles For Your Little
It's important to take these safety measures seriously. While big stuffed animals may look cute, they could pose a big risk to a newborn. But, certain toys can be introduced much later, especially when your baby is able to hold up their head and move. Experts will likely suggest you'll want to wait until your baby is 12 months old before using baby crib toys like stuffed animals and dolls.
That said, there are a few great baby crib toys that are safer that can help your child fall asleep. Here are some of the best.
Best Baby Crib Toys
This article was originally published on