Disney+ Starts Today! We Are All In And You Will Be Too.
by Phuong Ireland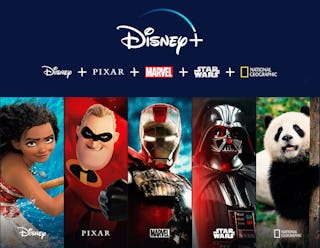 Disney
I don't even know where to start with this. Disney+ is basically the biggest thing in streaming, like, ever. You get all the best stuff from Disney, Pixar, Marvel, Star Wars, and National Geographic. The vault, the princess movies, all the Marvel/Avengers stuff, Star Wars, Toy Story, The Simpsons, the new High School Musical series. Ho. Lee. Crap.
It launches TODAY (November 12) and you can get it for $6.99/month or $69.99/year. Um, yeah. I can skip a latte a month or whatever for this.
I'm honestly not sure who's more excited, me or my kids. Disney+ is pretty much entertainment heaven. And it was definitely designed by a parent, because you can download every single piece of content on up to 10 devices. There is not a doubt in my mind that that was the brainchild of someone who has travelled with a toddler without WiFi or cell reception. Plus, you can stream 4 different shows on 4 different devices at once. And that is definitely the work of someone with multiple kids! Oh, and it's all ad-free. Hallelujah!
Let's talk more about the actual titles. Moana, Frozen, Cinderella, Snow White, Mickey, Minnie, Avengers, Guardians of the Galaxy, Black Panther, Toy Story, Cars, Nemo, Monsters Inc., The Lion King, Star Wars (STAR WARS!), Incredibles, Coco — the list is endless. There are over 7,500 episodes, over 500 movies, and over 35 new originals. (If you haven't heard of The Mandalorian, you need to stop reading this right now and go look it up. It's. Gonna. Be. Huge.) There's a super-cute new Christmas movie with Anna Kendrick, and an all-new High School Musical series. There are literally thousands of options for every person in the family.
Get Disney+ for $6.99/month or $69.99/year
OK, I'm obviously mega-excited, and throwing lots of lists and numbers out there, but here's the bottom line. Disney is such a huge part of my childhood, and I love sharing some of those same connections with my kids. It's stuff we can all watch together, and all actually enjoy. I'm not a "plop 'em in front of a screen for hours" kind of mom, but I also know that for my fam, at least, we like to gather around and laugh and cry and have fun (and have popcorn) with some amazing characters.
I'm all in on Disney+. In fact, it might be the only streaming service I actually need. But juuuuust in case we can't give up The Handmaid's Tale or sports stuff, there's also a bundle of Disney+, Hulu (with ads), and ESPN+ for $12.99/month. Another pretty great deal.
If anyone needs me, I'll be binge-watching for the next week or so.
This article was originally published on