Disney+ Is THE Streaming Service You Need If You Have Little Kids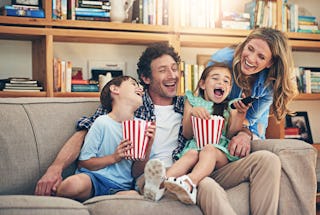 Getty
I have a 5yo girl and a 2yo boy, and without really trying or anything, Disney became a big part of their lives. We watch the movies together, we've taken a trip to Disney World, the whole shebang. I'm happy to say that they both love the characters, breaking traditional, stereotypical gender roles. My son loves all the princess movies just as much as my daughter, and she loves Star Wars and Marvel more than just about anything.
So when I heard about Disney+, I knew I'd have to sign up. And now that I have it and have poked around a little bit, I'm honestly blown away. And I'm also maybe even more excited than the kids are!
Disney+ is available right now for $6.99/month or $69.99/year, and tbh, I'd pay even more. The library is unreal: Moana, Frozen, Cinderella, Snow White, Mickey, Minnie, Avengers, Guardians of the Galaxy, Black Panther, Toy Story, Cars, Nemo, Monsters Inc., The Lion King, Star Wars, Incredibles, Coco — the list is endless. Pretty much any Disney content you can think of. There are over 7,500 episodes, over 500 movies, and over 35 new originals. There's a super-cute new Christmas movie with Anna Kendrick, and an all-new High School Musical series. There are literally thousands of options for every person in the family. And there's a Kids Mode, so you can make sure they're only seeing what you want them to.
Get Disney+ for $6.99/month or $69.99/year »
Every episode and movie is downloadable across 10 devices, and you can stream different content on 4 different devices simultaneously. If you've ever traveled with kids, first of all, bless you. And second of all, you know that no matter how much we all try to limit screentime, sometimes you just need a lifesaver — and this is it. Honestly, I'm not sure I'll need any other entertainment app. This is an absolute game-changer.
We don't just veg out in front of the all night or anything, but I'm not afraid to say that Disney has given me some really sweet bonding time with my kids. Watching their faces light up with pure joy and love for these characters makes me so happy. And sharing it with them is giving us both (I hope) memories that will last forever. I remember the feeling I had as a kid watching Disney movies, and I hope they will, too, in [REDACTED] years ;).
Disney has the power to make us all feel like kids. Even the most hardened and cynical of us. **looks in mirror, verifies** Disney+ is without a doubt the best way to take all that with you.
P.S. If you somehow still have time to watch other stuff, there's also a bundle of Disney+, Hulu (with ads), and ESPN+ for $12.99/month. Always fun to mix in some Handmaid's Tale if the Disney princesses are feeling a little too cheery ;).
This article was originally published on