OMG, Disney Just Dropped A 'Christmas In July' Ornament Collection
by Christina Marfice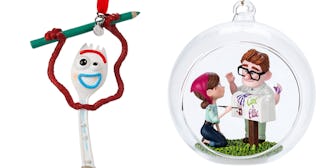 Disney
The 2019 Disney ornament collection is already here, this is not a drill
Normally, we're not getting behind the idea of Christmas in July. Summer is still in full swing, we don't wanna think about decking the halls yet, thank you very much. Besides, there are still like six major holidays between now and then. Let them have their moment in the spotlight. Calm down, Christmas!
Leave it to Disney to change our stance on all of that.
If Disney wants to celebrate Christmas in July, well, then we're celebrating Christmas in July. And that's exactly what they did. They just dropped their 2019 Christmas ornament collection and it's cute enough to get even the staunchest Scrooge onboard.
Seriously, this collection has something for everyone, regardless of what kind of Disney fan you may be.
Are you more into Pixar, like the latest installment of the Toy Story movies? They've got options for you, like this adorable sketchbook ornament of Forky, one of the central characters from Toy Story 4.
Or one of Bo Peep on her lamp. Yes, her sheep are there too.
Old school Pixar is more your thing? Well then what about this adorable globe ornament featuring Carl and Ellie, AKA everyone's couple goals from Up?
There's also something for every Disney classic lover. Whether you prefer the original cartoon or this year's live-action remake, no one can deny that Dumbo is the cutest elephant on Earth and deserves to be on every Christmas tree.
And while Will Smith did a great job with the role, Robin Williams as the cartoon Genie will always have our hearts, so hold on while we just add this ornament to our carts real quick.
Want to seriously throw it back? The Fox and the Hound is some truly classic Disney magic, which means Tod and Copper should definitely have a place on your tree this year.
And whether you've seen the new Lion King or not, Timon and Pumbaa are a classic duo sure to bring the Yuletide spirit wherever they go (AKA your Christmas tree).
If you're less into the classics and more a fan of Disney's modern offerings, of course there's something for you, too. Check out this Captain Marvel ornament, which will defend your tree from whatever evils the universe might hold.
Or for a simpler, more festive look, this Minnie Mouse Christmas stocking ornament will look perfect hanging from the chimney with care, or from a branch of your tree.
Personally, I always want to pay homage to Disney parks, which makes this mouse-ear hat ornament my very favorite.
Like we said, there's something for everyone here, from the casual Mouse fan to the most dedicated Disney lover. And while Christmas is still practically half a year away, take a lesson from Scar and be prepared.
This article was originally published on