Disney's New 'Mulan' Merch Will Bring Honor To Us All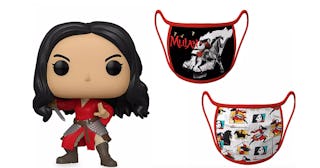 Disney Store
The new live-action Mulan movie we've been waiting for skipped theaters and went straight to Disney Plus Premier Access, which means, for an extra $30, we can watch Mulan kick butt as many times as we'd like. I don't know about you, but reliving my '90s childhood and watching the highly-anticipated remake is what I plan on doing Labor Day Weekend. Tbh, totally worth the $30. (And if you don't feel like spending the cash, you can always wait until December 4, when Mulan becomes available on regular Disney+ streaming). Best of all? Disney just launched brand new Mulan merch, too. If Mulan becomes your kids' new fave hero, you might as well get them (and yourself) some Mulan goods.
Disney's Mulan Collection includes two Funko dolls, costumes (right in time for Halloween!), mugs, T-shirts, masks (!!!) and more. Check it out below.
For more toy must-haves, check out our recommendations from Spotted!
This article was originally published on