Go Beyond 'Sit' and 'Stay' With This Comprehensive Dog Training Bundle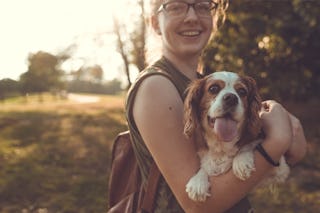 StackCommerce
While it's super cute to imagine dogs training themselves like Champ and Major of the White House, the reality is that dogs need your guidance and if your plan was to look to the help of professionals, stay at home orders and social distancing may have put a wrench in them. Tackle training the perfect pet yourself with this How To Train and Raise a Healthy Dog Master Class Bundle.
RELATED: Ready To Add A Dog To Your Family? These 5 Questions Will Make The Process Less Ruff
The five-star reviewed bundle is perfect for people wanting to better understand their dog, according to reviewer Dusan J. It comes with over 100 lessons packed into six courses that cover barking, attacks, a healthy diet, and even natural health remedies.
One of your biggest joys during these days spent primarily at home may be walking your dog. But if your dog is the one walking you, your peaceful stroll can become more of a terrifying chase. The included Leash Training course taught by NLP specialist and dog expert Sharon Bolt will help you master getting your dog to walk by your side and even off-leash. These tips can work wonders on your pet even after just one lesson. Eddison Paguia reviewed, "Just finished the course and applied just a few [tactics] during our afternoon walk, and it worked marvelously. Maybe old dogs can learn new tricks after all."
If you're working with a puppy, the A-Z Guide to Puppy and Dog Training will be your training bible. It doesn't teach the basic sit and stay commands— it teaches you to identify and train good character. By the end, you'll be able to overcome first night crying and howling, avoid separation anxiety, and even learn how to identify the right dog characteristics for your household.
Once your dog is trained with excellent behavior, you'll learn how to keep your dog healthy with a BARF Raw Diet and Natural Remedies for Health. Get your pup acting more like Lady and less like Tramp with the How to Train and Raise a Healthy Dog Master Class Bundle for $29.99, that's 97 percent off!
Prices subject to change.
This article was originally published on