Dolly Parton's New Christmas Baking Collection Is Perfection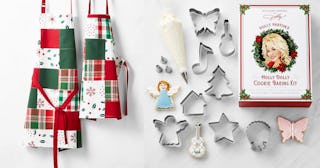 Williams Sonoma
Dolly Parton has collaborated with Williams Sonoma on her own line of holiday kitchen essentials
If you are a fan of Christmas as well as Dolly Parton (because who isn't?) this is an exciting year. First of all, the beloved singer is releasing her first-ever Christmas album. Second, get ready for the ultimate product launch. The queen of country has teamed up with luxury kitchen and home purveyor, Williams Sonoma, to launch a Dolly-themed and endorsed holiday kitchen collection — and it is everything you would hope it to be and more.
Last week, Williams Sonoma unveiled the collection on their website with details about how it came about. They explained that Christmas has always been a special time for Dolly and her 11 brothers and sisters, who celebrated in a small two-room cabin nestled in the Great Smoky Mountains of Eastern Tennessee. It is still her favorite holiday, and she has a number of Christmas traditions she likes to share with her family and friends.
"Where I grew up, my mama and daddy had an old cabin that was full of kids and full of love," she explains, introducing her Dolly Parton Pre-Built Log Cabin gingerbread kit. "We recreated our cozy cabin as a readymade gingerbread house."
And, Dolly loves baking cookies, so her Holly Dolly Cookie Baking kit paired with her sugar cookie mix is a must-have. Each of the clever cookie cutters is close to her heart, including the log cabin where she grew up, a butterfly that is her symbol, and a palm-size guitar that she learned to play.
And the sugar cookie mix can be easily tweaked to make different flavors.
Obviously, you will want to dress up like Dolly while you cook. If you want to channel the country legend in the kitchen, the patchwork Apron of Many Colors (based on her song and personal story, "The Coat of Many Colors") is an easy way to do it. The cutest thing about it, is that you can purchase a mini apron for your child to help you out in the kitchen, creating traditions as a family.
Obviously you need the matching oven mitt and potholder set.
Because philanthropy runs in her blood, the singer, songwriter and successful businesswoman, made sure to include some charitable items in the collection. Her butterfly-emblazoned spatula and matching tea towel set benefit No Kid Hungry.
All items are available for purchase on Williams Sonoma's website now as well as in stores.
And, to get your full Dolly Parton Fix, the legend is releasing Christmas on the Square, her new holiday album featuring original songs, tomorrow. Just think, in a few months (or even days, we won't judge) you can be baking up a storm listening to Parton's new holiday anthems.
This article was originally published on