20 Engagement Gifts That Stand Apart From Bridal, Bachelorette, Or Bachelor Presents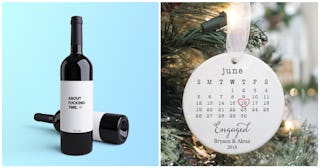 Etsy
Yes! That's what she (or he) said. No, this isn't a joke from The Office—she/he really did say yes. As in, your friends just got engaged, and now you need an engagement gift to celebrate their exciting news. And before the wedding or the bridal shower or even the bachelorette/bachelor party, you have to celebrate the big news. A.k.a. you'll need a gift for the newly engaged couple.
But engagement presents can be difficult to pick out. Do you get something for him? Something for her? Something for both of them? And what separates an engagement gift from a wedding gift? To help you buy something that any bride- or groom-to-be will actually appreciate, we've rounded up 20 of the best engagement gifts below. Whether you're looking for a Christmas gift for an engaged couple or a present that will make them laugh, these are our top picks of 2021.
Engagement Gifts for Her
Engagement Gifts for Couples
Funny Engagement Gifts
Christmas Gifts for Engaged Couple
Need the perfect present for someone else in your life? Shop all of our gift guides here.