Even Tweens and Teens Who Don't Like Anything Will Love Disney+
by Phuong Ireland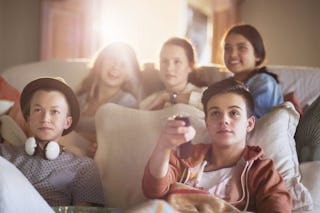 Ah, tweens and teens. They're like a different species walking among us. (Or, more accurately, sleeping and scowling among us.) Try to engage them, and you're more likely to be met with an "OK, Boomer," or a roll of the eyes than a nod of acknowledgement, or an actual (gasp!) smile.
But all hope is not lost. Disney+ is here to answer the eternal question: What makes a teen/tween happy?"
Disney+ launches TODAY (November 12) for $6.99/month or $69.99/year, and it's insane. Pretty much any Disney movie or show you can think of, all in one app. Whether they like Star Wars and Marvel, or National Geographic, or — though they won't admit it — the classic stuff like Pixar and princesses, there's something for every kid (and every adult).
The library is unreal: Moana, Frozen, Cinderella, Snow White, Mickey, Minnie, Avengers, Guardians of the Galaxy, Black Panther, Toy Story, Cars, Nemo, Monsters Inc., The Lion King, Star Wars, Incredibles, Coco — the list is endless. Pretty much any Disney content you can think of. There are over 7,500 episodes, over 500 movies, and over 35 new originals. There's a super-cute new Christmas movie with Anna Kendrick, and an all-new High School Musical series. There are literally thousands of options.
And here's the best part: There's a pretty good chance you can connect with them on this stuff. Most of it has roots from when you were a kid, so you can tell them all the stuff that proves you used to be cool and they can clue you in on what the cool kids are into now.
We get it, it's not gonna be all holding hands and kumbaya-ing all the time, but once in a while is a whole lot better than never, right? Plus, every episode and movie is downloadable across 10 devices, and you can stream different content on 4 different devices simultaneously, so you can give them their space when they need it, too.
There's also a bundle of Disney+, Hulu (with ads), and ESPN+ for $12.99/month, so you can mix in some Handmaid's Tale and feel almost as mopey as a tween/teen, if that's what you're into.
Best case, you connect with them and get to watch some amazing stuff. Worst case, they're secretly thankful that you signed them up, they never come out of their room or acknowledge it, and you STILL get to watch some amazing stuff. So it's a win-win for you — OK, Boomer?
This article was originally published on