Give Your Eyes Some Much-Needed TLC With This Eye Massager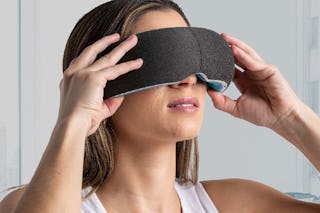 StackCommerce
After working from home for over a year and running our households from our phones, our poor eyes could really use a break from screens. From making sure the pantry and fridge are stocked with Instacart orders and being constantly available for work at all hours via email, blue light glasses can only help so much. Give your poor eyes some much-needed TLC with the Oculax Smart Bluetooth Eye Massager. And right now it's on sale for just $59.99 with coupon code OCULAX10.
Imagine after your next long day you could receive instant relief from eye strain and fatigue in just a few minutes. The Oculax Smart Bluetooth Eye Massager reinvigorates your tired and strained eyeballs by utilizing air compression therapy, acupressure and vibrations. Depending upon your needs, the Oculax offers four different massage programs to choose from. Select heat, compression, vibrations and music to get the relief you need. You'll be rushing to put it on during your next headache after hours of working, studying or using electronic devices. It's lightweight and has a whisper-quiet operation, so you can even take it on-the-go (in case you ever have to head back into the office!).
With an impressive 4.6 out of 5 stars on Amazon, customers are clearly satisfied with the results. One happy customer raved, "I often work late hours at night, staring at a screen. In the dim of the evening, I find the bright screen will often give me eye strain. I bought this device to help with that and it does. I had worried initially that it might be too aggressive of a massage, but that is not the case. The compression is quite gentle. There are 4 operational modes to choose from. All modes have compression and you can choose to add in heat, vibration and/or music. My favorite feature is the heat. It heats up super quick and the warmth provides the first, instant relaxation and relief. From there, I just sit back, relax and enjoy the 10-20 minute massage."
It's time to treat your eyes better. Spoil them with the Oculax Smart Bluetooth Eye Massager, available now for just $59.99 with coupon code OCULAX10.
Prices subject to change.
This article was originally published on