This $110 Device Gives Facelift-Level Results In 15 Minutes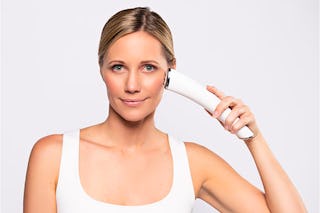 StackCommerce
You may have always had a perfect manicure, exceptional contouring, and a perfect blowout before having kids. After kids, you're probably catching a glimpse of yourself in the mirror sporting a messy bun and no makeup, more often than not. The truth is, it's pretty liberating to feel great about yourself in that more natural look, but you may still feel like you want to add a little something to your new look.
At-home spa treatments are becoming more popular, both due to pandemic-related closures and a simple lack of time and money. One technique you can do easily without leaving the house is an LED and Microcurrent facial therapy with a Microcurrent Three-in-One Device. The LED lights and microcurrent work to tone your face in order to stimulate collagen production and reduce the appearance of acne and fine lines.
If you're not already familiar with LED light therapy, you'll first want to understand what makes them each unique. Red light carries a higher wavelength which stimulates collagen production and can help reduce the appearance of fine lines and even big pores. Blue light carries a slightly lower wavelength and is effective in taking down inflammation and can actually stop the bacteria that causes acne from developing.
While you're applying LED light therapy to your skin, the microcurrent device uses vibrations to stimulate cell activity, oxygen absorption in the epidermis, and repair damaged tissue. A 15-minute treatment with the non-invasive device can emulate the appearance of a facelift. The microcurrents work to strengthen and firm your facial muscles, similar to a traditional workout for your body's muscles.
Lean into your natural skin's beauty with the Microcurrent Three-In-One Facial Toning Device, rated 4.6/5 stars on Google, while the at-home skin therapy is 63% off, at a final price of $109.99.
Prices subject to change.
This article was originally published on