Take Meat Off Your Lengthy Grocery List With This Farm-to-Table Service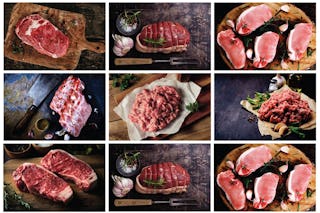 StackCommerce
Farm-to-table is certainly a trendy buzz word these days, but do you ever wonder what it actually means? Allow Premium Farm-to-Table Meat Boxes to show you, as they provide food straight from small, trusted farms that are working hard to embrace ethical and regenerative methods to pasture-raise their animals in a happier, healthier way. That healthy meat is then packaged right at the source, flash-frozen to lock in freshness and then shipped and ready to hit your doorstep in a crazy impressive 72 hours — all without a middle-man. For a limited time, you can get your hands on one of these Premium Farm-to-Table Meat Boxes for the low price of $149.
As busy moms trying to do it all during a pandemic, getting the grocery shopping done is just one more arduous task on our list. The Premium Farm-to-Table Meat Boxes take the guesswork out of buying meat for your family, letting you provide healthy protein without making that extra trip to the store. Whether you have a partner who loves meat so much they'd enjoy a meat-scented candle, or a picky eater who's refusing to eat anything but steak, this box makes sure you've got delicious dinners coming straight from the farm that are ready to be cooked. And you can rest easy knowing there are no GMOS, no hormones, no pesticides, and no antibiotics to worry about in these delicious pieces of meat.
Wondering what's included in the box? You'll receive the Lovers' Regale (Angus), which comes packed with plenty of options for the family: two pastured Oregon Angus NY Strip Steaks (weighing in at .8 pounds), two pastured Oregon Angus Tenderloin Tails (weighing in at 1.25 pounds), and four pastured Oregon Angus and Wagyu Ground Beer (weighing in at 1 pound). All of the meat will be flash-frozen and packed neatly with dry ice and insulation so it arrives safely at your doorstep.
Ensure your family is eating high-quality meat that's pasture-raised and coming from the farm right to your dinner table. Get these Premium Farm-to-Table Meat Boxes for $149 for a limited time now.
Prices subject to change.
This article was originally published on