A Guide To Our Favorite Gift Box Subscriptions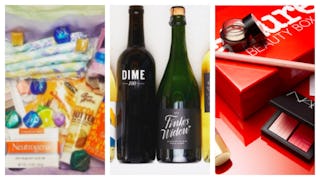 LEFT: DELIGHTFULCYCLE.COM / MIDDLE: WINC.COM / RIGHT: ALLURE.COM
We're living in a day and age when we can have pretty much anything we want sent to us directly in the mail (thanks, Amazon!). We pretty much don't have a reason to leave our houses for anything other than to go to work and see our friends and family. And we're getting so greedy that we can even sign up to have our favorite goodies sent to us on a scheduled basis. Known as subscription boxes, these collections of categorized items are pretty much the sh*t. They're also great for gifting, because they are truly the gift that keeps on giving. Below you'll find a subscription box that'll please even the pickiest person on your holiday gift list.
You might hate the smell of your mother-in-law's florally decorated home (especially when you're preggers), she can't get enough. Treat her to BloomsyBox, a subscription service that offers weekly, bi-weekly and monthly flowers delivered straight to your front door (or office). They're all sourced from sustainable farms from all over the globe and are shipped free of charge. Your only task will be to choose the size—a small, medium or large bouquet.
Friends and mamas, actress Jana Kramer and Sarah Boyd saw a void in the marketplace for a subscription-based service that delivered high-quality, premium products for both moms and their kiddos, so they set out to change that with Moms + Babes. Four times a year, the mama you're gifting will receive a curated collection of at least six full-size, premium products (think overnight repair cream, tweezers, sparkling lemonade, and more) delivered straight to her door.
Did you know that roughly one third of food produced in the world (some 1.3 billion tons) goes to waste? Woof. Your eco-friendly friend is not standing for that stat, which is why she will so appreciate a subscription to Misfits Market, the leading 'ugly' produce delivery service. Their Mischief box,includes 10-13 lbs of all-organic, non-GMO 'ugly' fresh fruits and vegetables that would otherwise go to waste.
It's never been cooler to know where you're from—and not all of us do. While you can simply go the DNA-testing route, Ancestry offers that and some—specifically a kit that gives you the testing along with an annual subscription to their service, which can help you discover your family history. This one's sure to score you bonus points with your in-laws.
This Oregon-focused wine club is about more than just shipping delicious wines across state borders—they want to help wine lovers learn about the wine they're drinking and help them explore the different varieties that hail from every winemaking region in the state. The owner Carrie Wynkoop, handpicks every producer as well as the wine she sends out. Each bottle comes from a producer who makes fewer than 10,000 cases per year.
Know someone who can't stop shopping? Ease the stress on their wallet by setting them up with a subscription to The Stylist LA, a female-focused service that lets women rent pieces for a fraction of the retail price. For $79 a month, you can rent three items for an unlimited amount of time (free shipping included). They've got it all—from sweaters to skirts, dresses, jackets, jumpsuits and bottoms.
Everyone loves craft cocktails, but few of us have the ingredients required to make a killer Old Fashion or Manhattan (Angostura bitters, anyone?). Enter Shaker & Spoon—the company determined to create a Blue Apron-like experience for cocktails. Each month, subscribers will receive original recipes created by world-class bartenders all built around one variety of liquor for that month that you select (note: you're responsible for the actual booze).
Beauty subscription boxes are still a thing, but now skin care is taking a front seat. If someone on your list is super into K-Beauty, consider JoahBox, which features handpicked Korean beauty products shipped directly from Seoul. Each month, 5-7 full-size items (no skimping here, folks!) are sent directly to your door each month valued $60-$100 total.
There's no denying it—diapers are pricey. The cost seriously adds up, especially if you're dealing with a newborn who takes more poops a day than you can muster up in a week. So when it comes to what the new parent in your life could seriously stand to benefit from, it's a subscription service that sends diapers on the regular. That's ABBY&FINN, a company that partners with well-established non-profit organizations that use the diapers as incentives for participation in family programs such as taking kids to wellness checkups, parenting classes, and more. Cherry on top: With every diaper subscription purchased, a subscription is then donated to families who are in need.
This subscription company ships boxes housing a myriad of products all made by minority-owned and women-owned businesses, from beauty, grooming, and fashion to skin, health and food. Their mission is to spread the word about small brands and products most people have never heard of—serving as a more "intentional" way to shop. If you like something in the box, you can purchase it individually directly from their e-commerce site.
For your friend who spends way too much on treats for her pooch, gift her the Ernest pet subscription box, which ships a curated variety of locally sourced, cruelty-free and sustainable products and food for dogs right to her door. From health-boosting probiotics and yummy treats to poop bags made from 100 percent recycled materials and shampoo/conditioners, it has something for every dog lover, old and young.
For that person you know who's always sporting a different handbag because she can't settle on just one, gift her Ivory Clasp, a handbag subscription that sends one in-season, stylish bag selected by the member or a stylist, should they prefer it, on a monthly or quarterly basis.
Lilypost sends hand-wrapped children's books to you each month. The company donates a portion of their sales towards children's literacy which means you are doing much more than just sending books to your favorite kiddos.
Ear Fleek is a fun, affordable gift to get your besties, your daughter, sisters, or yourself. They send you a pair of earrings each month, and you choose the style: Boho, silly, or minimalist, and a new pair arrives each month. Who doesn't love to get a new set of baubles in the mail?
The Allure Beauty Box sends you travel and full-size products from top beauty brands each month valued from $50-$90, and you only pay $15 (or less when you sign up for a year subscription). Our editor, Samantha, our resident beauty/skincare addict, raves about her subscription each month.
Birch Box sends you beauty products each month and you can opt to buy full-size of the ones you love. They also give you $1 in loyalty points for every $10 you sound in their shop.
This article was originally published on